Schezwan style idiyappam made in a fusion way. Make spicy schezwan style idiyappam with lots of vegetables and garlic flavor.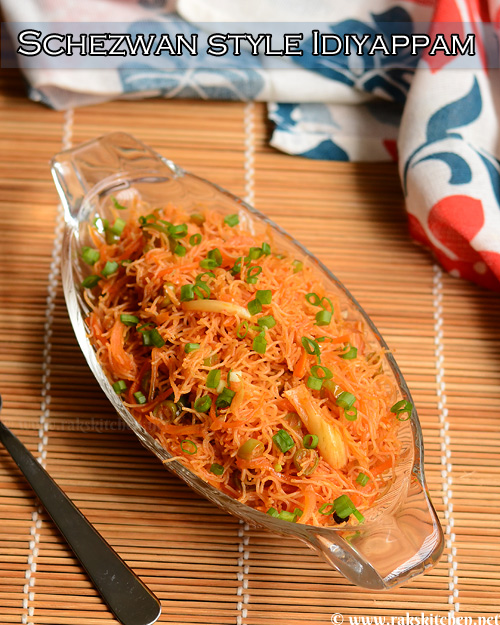 Jump to:
This is another dish I prepared for the live demo at Singapore expo on behalf of Suvai foods.
Used their ready to eat idiyappam to prepare this schezwan style idiyappam.
I followed the same method as I prepare schezwan fried rice and replaced rice with idiyappam.
It is a good change and you can make people who would not eat idiyappam to try this one.
Since I am busy travelling, I thought I will schedule this simple one in my blog.
Schezwan style idiyappam recipe
Recipe Cuisine: Indian | Recipe Category: Lunch
Prep Time: 15 mins | Cook time: 15 mins | Serves: 5 | Author: Raks anand
Click here for cup measurements
Idiyappam made in a fusion way, schezwan style. Make spicy schezwan style idiyappam with lots of vegetables and garlic flavour.
Ingredients
Idiyappam, cooked - 5 cups
Vegetables - 2 cups
(Carrot, capsicum, beans, onion, cabbage)
Garlic - 6, minced
Chilli paste - 1 tbsp
Chilli sauce - 1 tbsp
Soya sauce - 1 tbsp
Vinegar - 1 tsp
Pepper - 1 tsp
(schezwan pepper if possible)
Salt - as needed
Oil - ¼ cup
Spring onion, chopped - as needed
Note
Using readymade idiyappam like Suvai idiyappam or concord sevai (prepared as per package instructions) is recommended as homemade idiyappam is too brittle.
To prepare chilli paste, soak 10 chillies (kashmiri red chillies) in hot water for 30 mins, grind to paste with little water. You can soak and grind more chillies to paste and use as needed for a couple of weeks too.
Do the entire process in high flame. Toss well in high flame, so that the flavours are retained.
You can use readymade schezwan sauce for a quicker version.
I used large variety garlic.
Step by step pictures
First heat oil in a wok over high heat, add pepper, followed by Garlic. Fry until garlic is fragrant (30 seconds).

Add chilli paste, both chilli and soya sauces, followed by vinegar. Cook for 2 mins.


4. Add vegetables and stir fry for 2-3 minutes. Add cabbage towards end to retain its crunchiness.

5.In goes steamed and separated idiyappam, required salt.

6. Toss well, garnish with spring onion.
You can have it as such or serve it with some tomato chilli sauce.