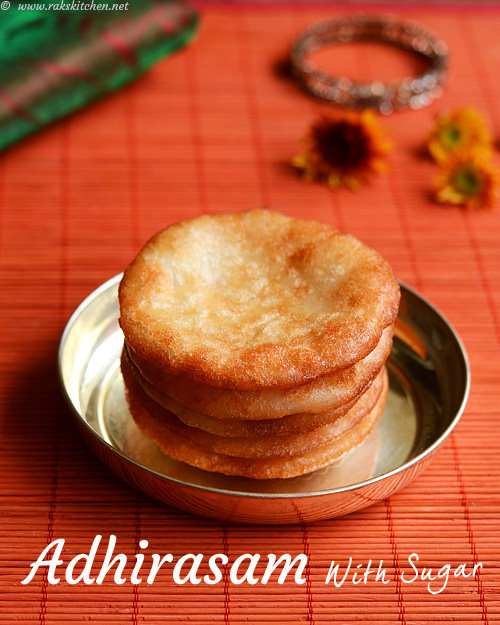 This is my most awaited try for this Diwali. I always had this seeni adhirsam in back of my mind to try. My mom have made this 2-3 times just for my sake that I don't like Jaggery those days. Now the story has changed. But seeni adhirasam tempts me very much when I even say that. So was waiting for Diwali 2014 to come. So for this Diwali its not the regular adhirsam, its this adhirsam with sugar. So don't worry if jaggery is not available at the the place you live. Just try it with sugar. The method is very same as the
jaggery adhirasam
. Only the measures are different. I was so very happy when I tried and came out good. Thankful to my mom every time I eat this seeni adhirsam. Hope you all are gearing up for Diwali.
Adhirasam with sugar recipe
Recipe Cuisine:
Indian
|
Recipe Category:
Sweets
Prep Time
:
3 hrs
|
Cook time: 40 mins
|
Makes
:
15
Ingredients
Raw rice (I used sona masoori, or maavu arisi works best) – 1 cup
---
Sugar – 1 cup
---
Cardamom – 1
---
Salt – A generous pinch
---
Oil – To deep fry
---
Method
Wash and soak rice for 3 – 5 hours. Drain water completely and spread in a clean kitchen cloth to get rid off the excess water. May be for 5 mins.

Powder this rice, along with salt, cardamom in a mixer to powder. Make sure no grain is there unground. No need to sieve, just powder it fine. If you are not confident, you can sieve, but do it quickly without drying. It is important to keep the flour moist for soft adhirasam.

In a bowl, pat and keep the flour tight. Keep the flour covered. In a heavy bottomed vessel, add sugar and 1/2 cup water.

Dissolve sugar, bring to boil and when it reaches one string consistency, put the flame to medium or low. Keep a bowl of water and pour few drops of the sugar syrup into water. First stage, it dissolves as you drop, next stage, lays a fine thread, then comes soft ball consistency. This soft ball consistency is needed for this adhirsam.

Now, if you pour few drops of the syrup in water, you may able to gather with fingers without getting dissolved and form a loose ball (soft ball). Switch off the flame. Keep the flame always in low as you may easily miss the consistency otherwise. Now, make a dent in the flour and pour syrup little by little.

Be careful, you will not be needing all the syrup. Just 1/2 of the syrup and little more. So carefully add the syrup. The consistency of the dough should be thick and flowing as shown below. But not runny.

Keep aside overnight, covered. Next day, the dough will be tightened, to correct consistency. Non- sticky dough. If its too dry, sprinkle a tsp of milk and mix so that you may be able to flatten without any cracks. Make 15 equal sized balls. Keep the dough always covered.

I used a baking sheet to flatten, you can also use a piece of banana leaf or a zip loc cover for this. Flatten with sesame oil greased both in the sheet and your hand.

Heat oil in kadai. when its hot, put the flame to low and carefully peel the adhirsam from the sheet and slide to the oil. When it gets cooked and comes up, flip carefully. Cook both sides to light golden colour/ or until its done. Do not over cook.

Squeeze the oil by pressing in between two ladles. Carefully squeeze as your hands will slip. Repeat to finish the dough.
Notes
Sugar syrup consistency is the important, so make sure you be careful while making syrup. Keep the flame in low or medium.
You will definitely not need all the syrup, so be careful while adding syrup, otherwise you will end up in too runny dough.
If in case the dough turns runny, you can add store bought rice flour. But add it soon. You cannot add just before making the adhirsam. Anyways adding the rice flour makes the adhirsam crispy.
If your syrup is past the consistency, or you add more syrup to the flour, the adhirsam dissolves in the hot oil.
Rice flour should be made fresh. The flour should always be moist, otherwise the adhirsam will not be soft.
Even the rice should not be spread more than 10 –15 mins. This will make the rice too dry.
Give the dough overnight resting time. This ensures the dough to be in right consistency also makes the dough smooth. 2 days fermentation will be giving you best result.
Also give the adhirsams standing time after frying it.
Make the adhirsams thick otherwise it will turn too crispy.
If in case the adhirsam turn chewy, keep it in idli pot and steam for a minute to make it soft.
So who all like this simple, seeni adhirsam and going to make for this Diwali? Happy Diwali 🙂