Looking for semiya recipes for lunch or brunch? A south Indian style Semiya biryani, thayir semiya, masala vada and fryums.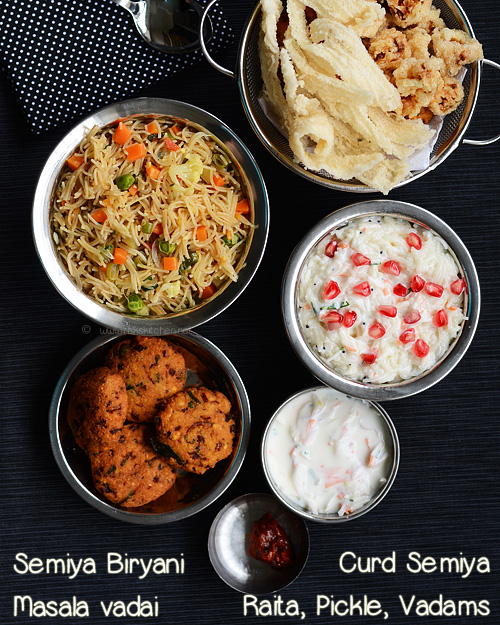 I am back on track and here I am with my lunch menu 41 for the lunch menu series.
This has been in my mind for long time, so made this today. This can be a brunch, lunch or you can make vermicelli for dinner too.
Easy and interesting to make as its different from the regular cooking. I thought of posting at least some breakfast menus to keep the blog lively when I went to Chennai.
But I don't know if there wasn't any exiting menu to click or I just was enjoying my break, the one month just flew like a minute.
So I could post only 2 posts per week which I kept ready and had to forget my space other days.
Last week itself I thought of posting a lunch menu or a breakfast menu as Vj's friend came over for stay, but just forgot.
Today also I cooked, clicked, finished eating and was deep into a movie that I forgot to post.
Then Vj had to remind me to post. Out of touch and routine you see.
So here is the lunch menu with Semiya biryani (vermicelli biryani) thayir semiya (curd vermicelli) and masala vadai. Scroll down for knowing how I prepared this menu and for the recipe links and other ideas.
Instructions
Recipe Cuisine: South Indian | Recipe Category: Lunch
Prep Time: 3 hrs soaking | Cook time: 1 Hr 30 mins | Serves: 3
On wake up or after your breakfast works are over, soak dal (3 hrs) for masala vadai.
Chop vegetables for biryani, keep aside. Peel garlic, slice 2 onions – one for biryani, one for raita. Chop one onion finely for masala vadai.
Keep other ingredients like green chillies, mint & coriander leaves, (carrot & pomegranate) for thayir semiya, coriander, curry leaves for vadai. Grind for biryani as in the recipe. (I made a no grind version).
First temper for curd semiya. Then prepare biryani. Simmer the biryani and let it get cooked.
Cook semiya for curd semiya and keep aside for cooling.
Grind for masala vadai and mix everything and keep aside.
Biryani would have been done by this time and mix, prepare curd semiya as well.
Prepare raita and lastly fry some vadams and make masala vadais hot.
Enjoy with your family – Semiya biryani, curd semiya, masala vadai, raita, pickle and vadams.
Check out the recipes
You can add phulka and a mixed vegetable kurma to this menu to make it more elaborate. You can try semiya payasam or semiya kesari too for dessert.
Have a great weekend🙂