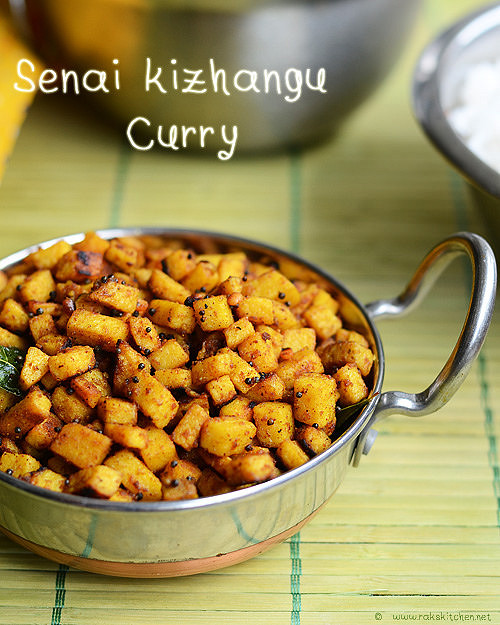 I never realized that I loved this senai kizhangu curry when they used to serve in our lunch at our hostel mess (SRC, Trichy). But after I finished my studies, when ever I used to remember this curry I started to crave for this. But We never made it this way in our home. We make senai kizhangu in dosai kal (
Elephant yam roast recipe
) otherwise a curry similar to that and mami makes this
senai kizhangu chips
every time. So I always wanted to try this at home. Since vj is not a big fan of this, I never buy elephant yam. This time, I really wanted to try this, so bought and made this curry. It was different from what I used to eat at my hostel, as I made it in my way. I loved the lunch with this curry and will make it often here after when ever I get a chance.
Senai kizhangu curry recipe
Recipe Cuisine:
Indian
|
Recipe Category:
Lunch – side dish
Prep Time
:
30 soaking
|
Cook time: 20 mins
|
Serves
:
4
Ingredients
Senai kizhangu, chopped – 1 & ½ cups
---
Sambar powder – 1 & ½ tsp
---
Fennel seeds powder – ½ tsp
---
Turmeric powder – ¼ tsp
---
Tamarind – 1 tsp tightly packed
---
Salt – As needed
---
To temper
Oil – 2 tblsp
---
Mustard – ¾ tsp
---
Urad dal – 2 tsp
---
Curry leaves – 1 sprig
---
Method
Soak tamarind in hot water for 30 minutes and extract juice. Peel off the skin of the yam and chop it finely as shown in the picture.

Wash it with water and boil with salt, turmeric and tamarind water. Cook until done.

Drain and keep aside. Heat a pan with oil and temper with the items given under 'To temper' table, in order.

Add cooked yam, sambar powder, fennel powder and sprinkle little water. Mix well. Fry for 2 minutes and drizzle over some oil while turning. When the masala powders wafts aroma, transfer to the serving bowl.
Notes
Buy elephant yam and let it sit in shelf for few days to avoid too itchy yam. As it gets older, less its itchy property.
While chopping, you can smear your hands with oil or lemon juice to avoid itchy feeling.
Cooking in tamarind water is must to avoid itchiness.
You can temper with fennel and avoid the powder.
Instead of sambar powder, you can replace it with red chilli powder 1 tsp and coriander seeds powder ½ tsp.
If you dont like fennel smell, avoid it and add a pinch of asafoetida powder while tempering.
Serve as accompaniment for rice. Goes well with any sambar and rice.