Seppankizhangu / Arbi / colocasia – is our family favorite veggie. We make curry or deep fry it. Sometimes add in morkuzhambu. Otherwise add in 7 kari kootu. This recipe is passed to me by my BIL through his friend. I tried it yesterday and turned out tasty. It was too similar to arbi took/ arbi tuk except dry coconut. Method also similar to it. Except double frying. Very flavourful and spicy dish. You can have it as snack as such or as side dish in your meal.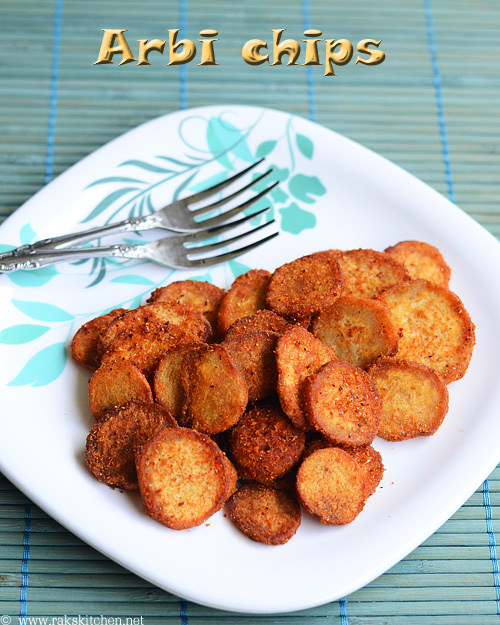 Seppankizhangu chips recipe
Recipe Cuisine:
Indian
|
Recipe Category:
Breakfast
Prep Time
:
15 Mins
|
Cook time: 25 mins
|
Serves
:
3
Ingredients
Seppankizhangu – 8
---
Oil – to deep fry
---
To grind to powder
Dry coconut – 1 tbsp
---
Red chilli – 3 or 4
---
Coriander seeds – 1 tsp
---
Salt – as needed
---
Method
In pressure cooked, add lots of water enough to immerse the arbi fully and pressure cook for 2 whistles. You can alternatively boil with lots of water in an open pot too. Either way, take care not to over cook arbi. Just enough to peel the skin. Cool down and peel the skin.

Slice it into more or less equal thickness rounds using a knife. Heat oil and add the sliced rounds.

Cook both sides until golden and crisp. Regulate the heat so that it doesn't get burnt and gets evenly browned. Drain in paper towel.

Powder the items given under 'To grind' table.

Add it to the fried arbi and toss in a hot pan for a minute to coat all the arbi.
Notes
Make sure arbi is not over cooked, otherwise may not turn out good looking.
Serve as such or as accompaniment for rice. I had with rice, mullangi (radish/ mooli) carrot sambar.