Sindhi food with tomato kadhi, aloo tuk and rice. You can add a koki or phulka to have a flatbread in this menu.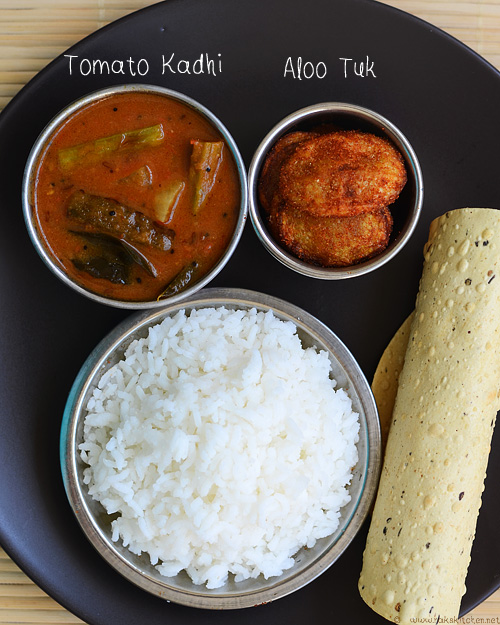 I wanted to make something totally different from my regular menu, so decided to make this for lunch today.
Know Aj loves aloo took as side dish. Coz, Vj and Aj ate this in Kailash parbhat. My friend Sangeeta has been insisting to put variety of north Indian lunch menu in this lunch menu series.
But being a south Indian, mostly cook our cuisine as Vj's wish. When ever we get chance, Vj is not around, I try north Indian recipes for myself and Aj.
I had this recipe of Sindhi curry (tomato kadhi) as a contribution recipe from Sangeeta but never tried or tasted.
Only 3 years back, I had a chance to taste this kadhi when a friend threw party at Kailash parbhat.
It was buffet and I felt myself comfortable tasting this. Because definitely when we go for a la carte, I would never order, as I know only I should eat all.
And when I tasted this kadhi for first time, it was really good, I could relate the taste to a mix of several south indian vatha kuzhambu, sambar.
Weird but yes. The methi flavor, tangy taste were like vathal kuzhambu and the flavor of mixture of veggies used – drumstic, radish, cluster beans, were like sambar.
So from that time I wanted to try at home, but lazy me never did until today. I will share aloo took recipe next week, so hang on with this simple easy Sindhi lunch menu.
Instructions
Sindhi curry aloo took - Lunch menu 43
Recipe Cuisine: Sindhi | Recipe Category: Lunch
Prep Time: 30 mins | Cook time: 45 mins | Serves: 3
Pressure cook rice. Gather all the veggies needed. First cut radish and drumstick, let it cook in a stove.
Mean while which you can chop other veggies, like ladies finger, cluster beans, chilli, ginger, curry leaves.
Saute the veggies and temper kadhi, mean while you can puree tomatoes.
Prepare kadhi and later prepare aloo took, except for the final frying part.
When rice and kadhi ready, and your family is ready to have lunch, prepare aloo took and toast some papad, serve hot.
Really simple right? But very satisfying for me and complete change for me, so very interesting to cook as well.
Check out the Tomato kadhi recipe,
Check out Aloo tuk recipe

I will post aloo took next week sure! Happy weekend!