One pot meal idea with small potato biryani and a curd rice, raita to go with it.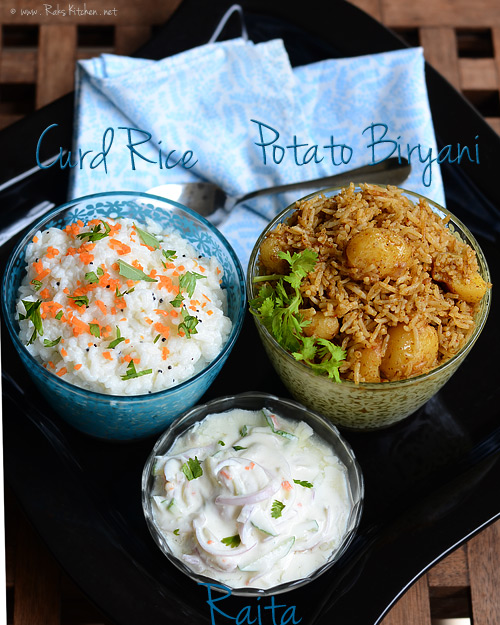 Small potato biryani always remains close to my heart. Because it is the first recipe I learnt and became a hit among my family.
When I got married, once I made this and everyone appreciated it ( When I do not know cooking).
I used to follow a recipe from a cookbook, but now I am making my own version as the original version is tedious.
The only time consuming thing in this is to cook the small potatoes and peel the skin off and then frying it before using it in the recipe.
But sure worth spending time as your family and yourself are gonna love this one 🙂 And yes, this is my whole family favorite too!
Its pretty simple with only a curd rice and raita along with the small potato biryani.
If you are concerned about proteins, just add on any sprout salad or sundal with this and a complete meal is yours...Here is how to prepare I prepared the lunch.
Instructions
One pot meal idea | Small potato biryani | Curd rice | Raita
Recipe Cuisine: Indian | Recipe Category: Lunch
Prep Time: 1 Hr | Cook time: 45 mins | Serves: 3
1 hr prior to prepare lunch Soak the basmati rice as required.
Pressure cook small potatoes and cook ½ cup rice for curd rice.
Mean while, clean coriander leaves required for biryani. 
Chop 1 onion for the biryani and one for the raita, 1 tomato for biryani, peel garlic, ginger. Chop other ingredients like green chilli and carrots for curd rice.
Roast ingredients needed for biryani. By now your potatoes also would be ready, cool it, peel it and roast in kadai.
In a pressure cooker, season for the biryani and side by side grind the needed, prepare biryani.
Season for curd rice and prepare curd rice as well. Lastly raita. Done!
Here are the links to the recipes:
Check out my Baby corn pulav you may love it. Add on triangle paratha or lachha paratha along with a sabji to the meal to make it elaborate.
Have a great weekend! 🙂