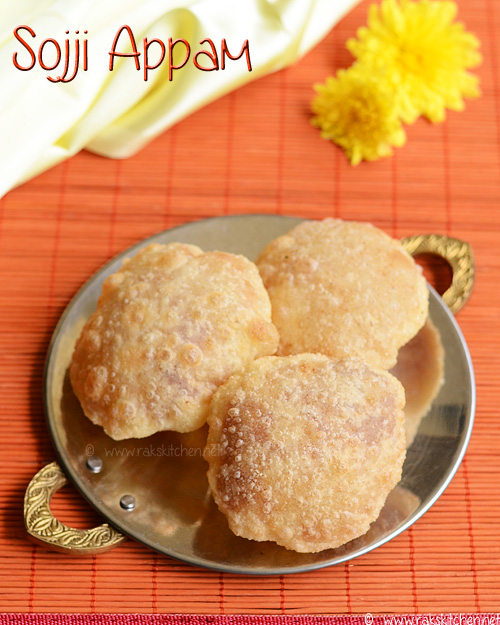 Sojji appam is a sweet dish like a poori made out of maida, stuffed with sweet rava/ semolina/ sooji stuffing. The sweet stuffing is made with jaggery and coconut (optional).
There are few other version too, made with sugar, without coconut and so on, but this is the one I saw in a magazine attachment recipe booklet. I had this recipe under my to do list for few months now. But kept postponing because of all the maida, sooji and deep frying thing in this recipe. But recently saw sojji appam in the show Sutralam suvaikalam Madurai special and got tempted by it. Though it was made with just plain rava & sugar mix, I wanted to make this one with jaggery.
I guess we can make
kesari
and stuff in this maida poori. This one was similar to the chana dal pooranam, except this is with rava instead of chana dal. It was really really tasty and flavour was beyond my expectation, ofcourse, any high calorie food will have to be tasty right?
. We cannot avoid but at least eat in moderation and enjoy such food. Original recipe is this, but many of you will be sure concerned about the calories – make it with wheat flour, tawa fry it instead deep frying and make all your own modification. Taste may definitely differ but good, it's up to your preference.
How to make sojji appam full video :
Sojji appam recipe
Recipe Cuisine: Indian | Recipe Category: Main
Prep Time: 2 hrs | Cook time: 20 mins | Makes: 10 | Author: Raks anand
Click here to read sojji appam in tamil
Sojji appam is a sweet dish like a poori made out of maida, stuffed with sweet rava/ semolina/ sooji stuffing. The sweet stuffing is made with jaggery and coconut (optional). Full video and step by step pictures.
Ingredients
All purpose flour / Maida – 1 cup
Ghee – 1 tbsp
Salt – ¼ tsp
Stuffing
Semolina/ rava – ½ cup
Water – 1 & ¼ cup
Jaggery – ¾ cup
Coconut, grated – ½ cup
Cardamom – 1, powdered
Ghee – 1 tsp
Method :
First prepare the dough by mixing maida, ghee and salt first, add water little by little to make a smooth, pliable, non sticky dough. Keep aside for minimum 2 hrs (The more hours you keep it becomes more soft).

Meanwhile, prepare the stuffing. Boil water in a pan and add rava in sprinkle way with brisk stirring to avoid lumps.

When it becomes like a porridge, lower the flame and cook covered for 3 to 4 minutes in medium or low flame. Rava should be completely cooked.

Add powdered jaggery and let it melt in heat and get blended well.

Add grated coconut and cardamom powder and keep stirring. Once the mixture forms a thick mass, switch off the flame, transfer to the container. Let it cool down.

Knead the dough after 2 hours to a smooth dough, add a teaspoon of sesame oil while kneading. Divide into 9-10 equal sized balls.Knead the stuffing also to make it soft and divide into same sized balls as the dough balls. Grease and flatten the dough ball into small disc. Keep the stuffing over it. Make sure to soften the stuffing if it is hard, by kneading it.

Gather the dough and pinch it towards the centre to cover it and seal it. Keep the sealed part down and flatten to a palm size disc. The appams should be thick and the stuffing should not be exposed. Otherwise oil will get spoiled as well as too much oil will be absorbed.

Repeat to finish and keep everything in a large greased plate, separately. Heat oil and deep fry the appams. It will raise after few seconds you drop in oil.

When it puffs, flip and cook in medium flame until golden in colour.
Notes
Important: This stuffing is enough for making 20 appams, while the dough is for only 10. So keep it in mind while you make and adjust the quantity accordingly.
When the appams raise keep it pressing gently inside oil so that it puffs up. you can pour some hot oil over the appams to make it puff too.
The dough should be soft and pliable. Otherwise it will not be easy to spread it as appam.
The stuffing should not be too stiff or too sticky.
If you add jaggery before the rava gets cooked completely, then it will become hard later. So make sure rava gets cooked completely. I did not roast the rava.
You can skip coconut, but reduce jaggery to ½ cup in this recipe.
Sojji appam stays puffed up for long time. It tastes great when had hot and even after cooling down.