When ever I hear the name of this,it always remembers me a saying-if any one interferes and annoys when two people are talking and asks what are they talking,they say : "சொரக்காய் கூட்டுக்கு உப்பு பத்தல".😀. I don't know the story behind that,if anyone knows please do share ! I made this as per my MIL's instructions when I was there. She usually makes dosa by grinding this along with rice. Comes out very soft,will blog surely in future.  My mom too makes two versions in this kootu. And I am a big fan of it too,recipes will sure blog in future. My mom adds sugar and makes this sweet. Also she makes a complicated dish with small small rice balls(as they make for paal kozhukattai),which is also a sweet version,it will be just awesome,really!!
Here's my MIL's salt version of the kootu. I was not able to concentrate on pictures,still managed to click some. Recipe is very very simple.
Check out my Sorakkai adai, sorakkai adai (Lauki paratha recipe) too!
Bottle gourd kootu recipe
Recipe Cuisine: Indian  |  Recipe Category: Lunch
Prep Time: 15 mins     |  Cook time: 20 mins     |  Serves: 4
Ingredients
Bottle gourd, finely chopped - 2 & ½ cups
Salt & water - As needed
To grind
Coconut,grated - ¼ cup
Rice flour - ½ tsp
To temper
Oil - 1 tsp
Mustard - ¾ tsp
Urad dal - 1 tsp
Curry leaves - 1 sprig
Red chillies - 3
Method
Peel the skin and remove the center soft portion of the veggie.

Chop them finely.

Boil it with little water(just to immerse) and salt and cook till done.

Grind the coconut with rice flour and water,to a smooth paste and add it to the cooked veggie.

Mix well and boil for 2 minutes and temper with the items given under the 'To temper' table. Enjoy as accompaniment for rice.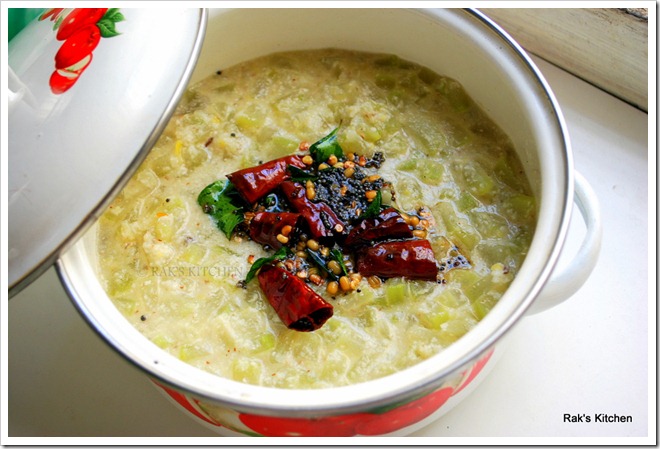 Is it not so simple? 😊