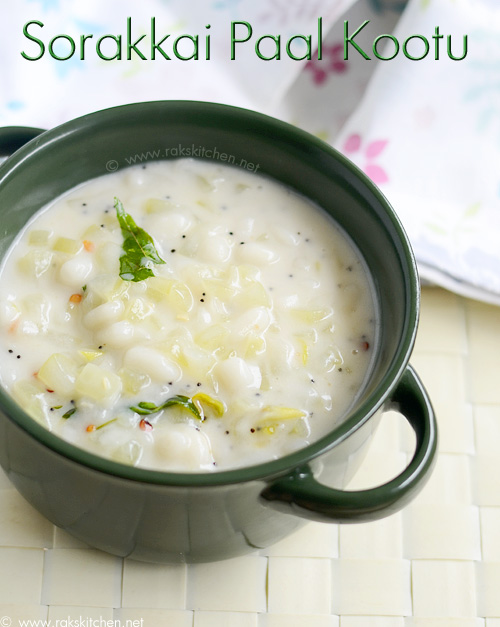 Sorakkai paal kootu recipe is known to many of you, but sorakkai kozhukattai paal kootu? Sorakkai paal kootu with tiny kozhukattai added to it. I love this when my mom makes it. We all three – myself, amma and paati sit, chit chaat and make these tiny kozhukattai for this kozhukattai. I am not sure if the sweet version is common, may be mom made it for us, kids sake. I wanted to try this for long time and post. Finally made last week. I could not take my eyes off the kootu, it was gorgeous, with these cute little jelly bean like kozhukattais! Do try it out, everyone will love this.
Sorakkai paal kootu recipe
Recipe Cuisine:
Indian
|
Recipe Category:
Side dish
Prep Time
:
30 minutes
|
Cook time: 20 mins
|
Serves
:
4
Ingredients
Bottle gourd / Sorakkai – 1
---
Coconut – ¾ cup
---
Green chilli – 1
---
Rice flour – ¼ cup, heaped
---
Sugar – 3 tbsp
---
Salt as needed
---
To temper
Oil – 1 tsp
---
Mustard – ½ tsp
---
Urad dal – 1 tsp
---
Red chilli – 1
---
Method
Peel off the skin, remove the centre seeds, soft part of the bottle gourd and chop them finely.

Boil water, make a dough out of rice flour with little salt and hot water.

Once warm enough to handle, make tiny kozhukattais like a jelly bean. You can make your convenient shape too.

Grind coconut with very little warm water, say 3 tablespoon and extract the first milk.

Again add little more warm water, say ½ cup and grind again to extract the second milk.

Use this second milk along with little more water, just to immerse the bottle gourd, green chilli slit and salt as needed and cook until almost done.

Add the tiny kozhukattais to it, preferable in spread way. Do not mix immediately. Cook covered for 1 or 2 minutes in medium flame. Before adding kozhukattais, make sure enough water is there.

Open the lid and gently mix to let the kozhukattais cook. Check if it is done by picking a kozhukattai and dropping over a plate. If it bounces, it's done. Add sugar and give it a boil.

Lastly add thick coconut milk and give it a boil. Temper with the items given under to temper table and mix in to the kootu.
Notes
You can use little less salt as we use sugar. If not using sugar, you can salt it as regular kootu.
I used idiyappam flour for the kozhukattai dough.
Keep the kozhukattais covered until cooking.
After adding kozhukattais, do not stir immediately, this will break/ mash the kozhukattai. Let it get cooked before you stir.
After adding kozhukattai, the kootu may get stuck at the bottom, so cook in low or medium flame.
Add sugar only after the kozhukattai gets cooked.
After adding first coconut milk, do not boil for long or in high flame, just do it in medium flame.
Yummy, delicious and gorgeous looking kootu goes well with spicy kuzhambu. Or even as such! We had it with poondu kuzhambu