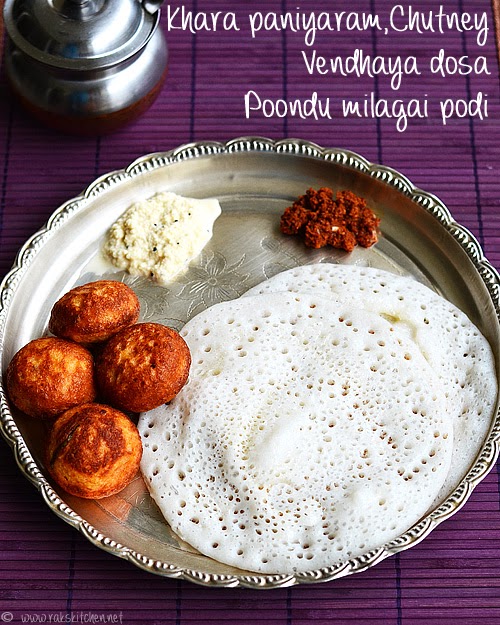 It was a busy long weekend here, with lots of shopping for my birthday. Though lots of cooking is there, I did not clicked anything for
lunch menu
series as I almost repeated my usual menus, so didn't plan for a new one and click. So I clicked this breakfast menu yesterday. I ground for vendhaya dosai and adai on friday – vendhaya dosai, for saturday and adai for friday dinner. As friday was holiday and we went for shopping, we had some evening snacks at a restaurant and when we came back home, no one was that hungry. So I knew, no one will eat properly and reserved some adai batter without adding onion and saved it in fridge for the next day. So the next day morning, I made vendhaya dosai and khara paniyarams with the reserved adai batter for breakfast. We usually make khara paniyaram along with sweet paniyaram for dinner, but this one is to make use of the batter. I added some bits of fresh coconut and it was awesome.
This is just a menu idea post. Get the detailed individual recipes by following the links below:
For vendhaya dosa, poondu milagai podi is the perfect side dish. I love it to have it with buttermilk or fresh curd too along with this. For this summer, vendhaya dosa is good for cooling your body too.
Check this sponge dosa recipe and sweet paniyaram recipe too.
Khara paniyaram, vendhaya dosai, Chutney, Podi
Recipe Cuisine: Indian | Recipe Category: Breakfast
Prep Time: 12 hr | Cook time: 45 mins | Serves: 4
The before day, soak for vendhaya dosa and for khara paniyaram. For khara paniyaram, you can soak early morning on wake up and grind after 3 hrs and make in the morning too. But this saves time and will be handy in the morning, making your job easy.
Grind for dosa in grinder and keep overnight for fermentation. Grind for khara paniyaram and keep for an hour outside and then keep refrigerated.
Peel garlic for the poondu milagai podi. Grate coconut for chutney and milagai podi as well.
Temper for coconut chutney. Roast chilli for poondu milagai podi, cool and first grind this. Grind coconut chutney and mix it with the tempered items. (I roasted some channa dal and used ripe chilli for grinding this coconut chutney)
When your family is ready, heat the dosa pan and paniyaram pan side by side and make for them and serve hot.
Breakfast with vendhaya dosa, khara paniyaram, poondu milagai podi and chutney!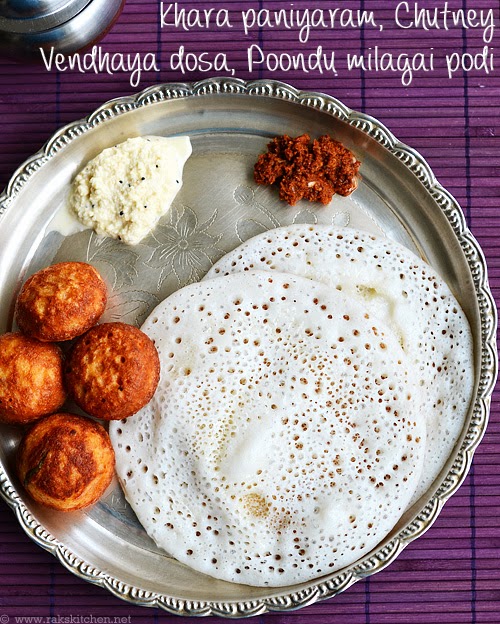 Happy Sunday everyone!