South Indian lunch combo with pepper garlic kuzhmabu, appala kootu and karunai kizhangu podimas.
This week it is spicy pepper garlic kuzhambu and a mild appala kootu and karunai kizhangu podimas. It is mostly dal based gravy for rice since Aj likes only sambars, dals or kootu. So wanted a spicy, tangy break from my regular routine. Made this simple menu... If you are new to this place, do check out my Lunch menu series, this is just idea for planning you lunch, sometimes simple, sometimes special.. Check the links provided for detailed recipes.
This is just an idea for everyday cooking and not an elaborate one, so if you want, add a thogayal, rasam and payasam to make it special. Check the individual posts for the detailed recipe from the links given below.
Milagu poondu kuzhambu or pepper garlic gravy is a south Indian gravy served with rice. Step by step pictures post.
20

minutes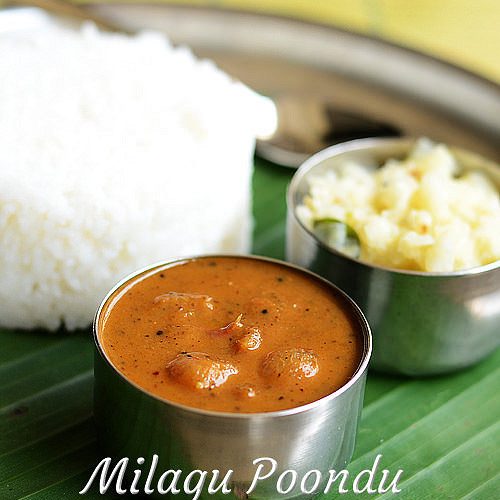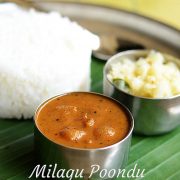 Appala kootu is a delicious accompaniment for South Indian lunch, perfect to go with tangy gravies or kuzhambu varieties.
20

minutes
Pidi karunai kizhangu podimas recipe, a simple recipe using karunai kizhangu. We call this pidi karunai kizhanghu. Learn how to make this healthy side dish for lunch.
20

minutes
Check out thogayal recipes  and rasam recipes. Milagu poondu kuzhambu, appala kootu, karunai kizhangu podimas - Lunch menu 59
South Indian lunch combo
Recipe Cuisine: Indian   |  Recipe Category: Lunch
Prep Time: 1 hr soaking time + 20 mins     |  Cook time: 1 hr  |  Serves: 4 This is how I prepared this menu
First soak chana dal for appala kootu. After breakfast work, I peeled garlic and small onion while watching TV.  
I pressure cook tamarind needed for easy extraction of pulp. So in a pressure cooker with separate containers, in one container, add dal with tamarind kept in small bowl in the middle. 
In another container, add the karunai kizhangu. Pressure cook and meanwhile you can grate coconut (I grate one whole coconut and freeze it in ziploc, so used from it) for kootu and podimas, cut onion, green chilli and keep other things like curry leaves, lemon.. etc ready for the cooking.
Once pressure cooked items are ready, take out and keep rice next. Extract tamarind pulp, peel karunai kizhangu and crumble, keep it ready.
Heat kadai with oil, fry vadam, then appalam required for kootu. Transfer oil and continue with cooking.
First fry things needed for kuzhambu, put for cooling down, then temper for kuzhambu.
Meanwhile prepare kootu in another stove and temper for kootu, finish kootu. 
Prepare karunai kizhangu podimas, mean while which you can prepare kuzhambu too.
Serve lunch with curd. So lunch with milagu poondu kuzhambu, appala kootu, pidi karunai kizhangu podimas, vengaya vadam (Killu vadam got from my MIL) and curd, rice.