Brinjal pepper kuzhambu is one of my most favorite among the brinjal recipes. When my mom makes this one, both me and my bro used to have it twice. It's so flavourful, spicy and different gravy that you must try and see. I took a while to get a hold on this recipe to balance the spice level, tanginess in this recipe. Now a days, I do make it right and enjoy it. This is the second time I am making in past 2 weeks. Since Vj doesn't eat brinjal, he eats this gravy and loves it too. And all the brinjals in the gravy, for me, only me😉. Today I made this along with mix veg kootu which is another one of my mom's speciality for us and Aj had thogaiyal,
rasam
and bajji along with the kootu. Kuzhambu is too hot for him so he doesn't like it. Check out the recipes
I just mixed green chilli and salt with fresh chopped mangoes. Click here to see all the menu from this series.
South Indian lunch ideas – Lunch menu 54
Recipe Cuisine: Indian | Recipe Category: Lunch
Prep Time: 30 mins | Cook time: 1 hr | Serves: 3
Pressure cook rice and dal for rasam in 2 different containers in the cooker.
Mean while chop veggies first for mix veg kootu and put it for boiling. Soak tamarind for rasam, kuzhambu.
Grate coconut for both kootu and kuzhambu. Grind for kootu and finish boiling it.
Cut tomato for rasam, extract tamarind juice keep aside. Cut brinjals and keep immersed in water. Peel garlic and crush, keep it ready for rasam. Reserve a flake for thogaiyal.
In a kadai, roast for thogaiyal, kuzhambu, keep aside. Temper kootu, temper for rasam and transfer to a bowl.
Prepare rasam and finish it, keep aside. Lastly fry brinjal and finish the kuzhambu.
Lastly grind thogaiyal and make bajji hot when ready to serve lunch.
Brinjal pepper kuzhambu, mix veg kootu, paruppu rasam, thogaiyal, curd, mangoes, rice – lunch menu 54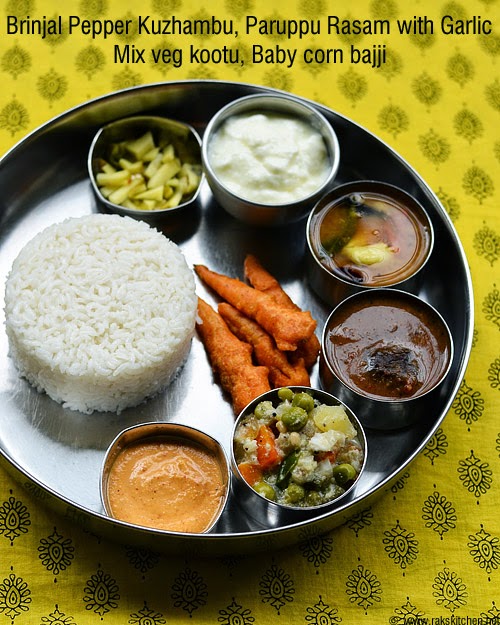 Check out other thogaiyal recipes. Check out the other kuzhambu recipes.
Have a great weekend! 🙂