South Indian (Tamil) weekly lunch planner for the coming weekdays. What I really like about this weekly lunch planner is I eat better.
By saying I eat better, what I mean is, usually I tell myself I have to include more vegetables and eat less rice.
Make my tummy full with more of vegetables than rice. But I am really poor in that.
I eat more of rice and gravy than vegetables and at times, skip eating vegetables.
My eating habit is really not right and I know it. But couldn't do anything about it than telling myself it's not right, I have to eat healthy.
This is for past 3 years. I don't include vegetables properly in my diet.

My mom used to mix rice and ghee along with vegetables as our first course of lunch right from childhood just for this reason that we should eat vegetables.
As long as I remember, until I went to hostel, my mom used to give me and my brother lunch with her hands (ஊட்டிவிடுவார்).
Such a spoilt brat I was. Later after coming here to Singapore, there is no one to regulate me in my eating habits.
Though Vj warns me every now and then, I can easily cheat. I cook only for Aj or Vj not for myself.
For Aj only there are few vegetables he like and he never get bored of it. I got bored of it, I don't even like to smell it, how will I eat it?
But because of this planning I make sure I buy veggies both for myself and others and make sure one dish in the menu is my favorite too.
Both Aj and Vj are happy to have the vegetable I prepare along with their favorite. Hope this continues.
As I always say, this is just my plan for the weekdays, adjust it as per your family preference.
Recipe links :
Carrot curd pachadi
Beans curry
Top tips
While planing your menu, you too can follow this, that is make sure your favorite vegetable is also there, instead of cooking only for others in family. But please don't make it other way round😛. 
Keep the vegetables that are easily spoiling kind, in the top of your menu plan. 
Since this is summer, though I have not mentioned in my planner, make sure to include more curd and buttermilk.
Butter milk is a lot better as it is said to be a body coolant than curd. Include more cucumber, Indian goose berry (amla/ nellikkai) too. 
Last week I updated all my lunch plates in the weekdays in my Instagram handle under the hashtag #rakslunchenna. I have updated the post, also posting here, but next week I will try to replace with the above planner.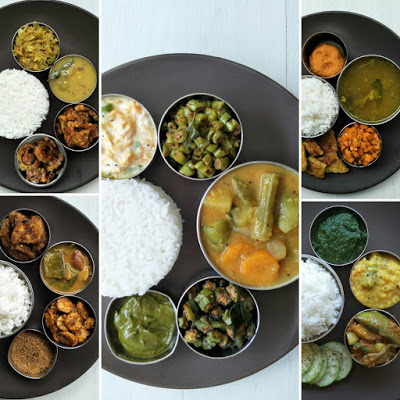 Here is the vegetable check list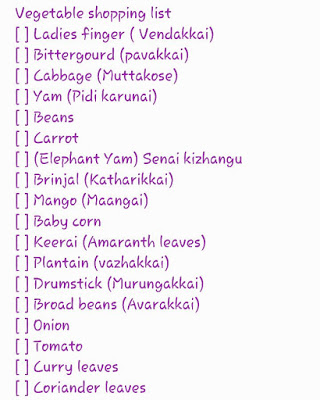 Other planners in this series