South Indian lunch recipes with sambar, rasam, poriyal, varuval and thogayal. A comforting lunch menu with all the ingredients in my availability.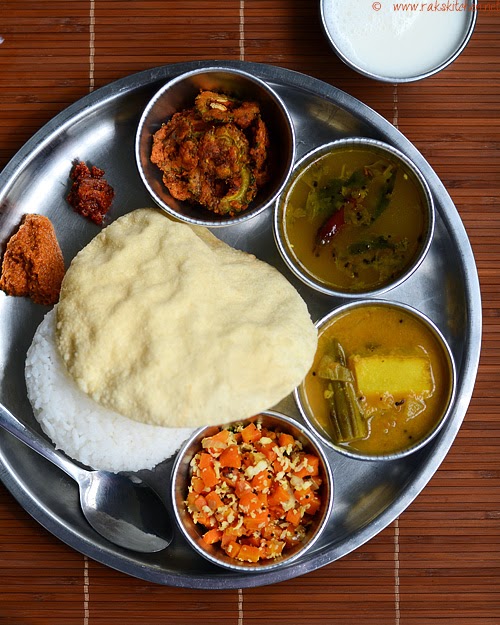 Mangoes are in season and I am sure you all cooking mango for your lunch.
I had a mango sitting in my fridge vegetable trays bottom for past 2 weeks, but still it was good.
Was saving it for making mango thokku but kept forgetting about it. Today, I got 2 more mangoes and thought I should finish this mango before it goes for waste.
Same way there was a drumstick. So made a combo sambar. I think I have already posted this in my lunch menu series when I was at Chennai last summer.
And here is how I made this simple lunch menu today.
Instructions
Recipe Cuisine: Indian | Recipe Category: Lunch
Prep Time: 30 mins | Cook time: 45 mins | Serves: 3
Pressure cook dal for sambar. Side by side rice.
Soak tamarind for sambar and rasam and extract tamarind juice.
Thinly slice for bitter gourd chips and mix all the ingredients needed and keep refrigerated.
Chop tomato for sambar, rasam. Onion for sambar, poriyal. Cut drumstick and boil it side by side.
Chop carrot, cook it and mean while grate coconut for poriyal and coconut thogaiyal.
Heat kadai, first roast ingredients for coconut thogaiyal. Then temper for rasam and transfer to the serving vessel, then for sambar and sambar get ready in a stove.
Next make poriyal and transfer to the serving bowl. Prepare rasam and transfer over the tempered items kept in the serving bowl.
Grind thogayal. Lastly, heat oil in kadai fry few papad and then lastly fry the bitter gourd chips.
And you lunch is ready with thogaiyal , Drumstick mango sambar, rasam, carrot poriyal, bitter gourd chips, buttermilk, appalam, pickle and Rice.
Recipe links
Check out the links for these posts
In my mango sambar recipe, I have added mango lastly. Since we make with drumstick, first we have to boil it then later add mango lastly.
You can make mango, drumstick and brinjal combination too. It tastes great.
In this menu, bitter gourd chips takes a while to fry. So you can make ahead and store in airtight container in fridge.
Check out this crispy ladies finger fries. Check out other thogayal recipes too. Have a great day!