South Indian meals, a typical full meals as we call it thala vazhai ilai sappadu (South Indian banana leaf meals). Learn how to plan, prepare, serve a meal in banana leaf in this blog post.
South Indian meals with paruppu, sambar, rasam, curry, poriyal, kootu, vadai, payasam, appalam, mor, pickle, banana. Guide to prepare the meals.
This is just a guide, please check the individual recipes for detailed procedure of each dish. Part of my Lunch menu series I have been posting.
Jump to:
I wanted to make this post sometime in this lunch menu series. When I posted the North Indian meals itself, I was so much tempted to do this post.
As I wanted to find thala vazhai ilai (Banana leaf) and I very rarely go to Little India to get vazhai ilai, I was wondering when I am going to do.
I went to Mustafa last week. I bought this thala vazhai ilai. Two in one pack! I was so carefully bringing back without tearing it off!
I opened eagerly to see it was bit old and starting to turn yellow. But still was good enough to serve the food!
And Vj was so busy with his office work for about a month and working day and night without good food or sleep.
Thank God, now he is back to a routine working time as usual. So I thought its the right time to cook, as well as make post for this series.
In our family, my mom, MIL makes such spread if someone comes home for eating lunch (especially if they are coming for first time) and also they make a simpler version when its festival time.
About
There are certain things when it comes to serving this meals. That I have never noticed or knew the correct way of how to serve a proper Tamil full meals in Thalavazhai ilai.
After coming here to Singapore, I rarely attend weddings also to know how its served.
Now after two marriages happened in our family and serving lots of food too, with lots of 'seniors'  to help me around, I never learnt it.
I think, next time I should learn it. Its high time I learn this.
I have a cookbook mom . It has a rough explanation about serving food in banana leaf.
Though I didn't understood it fully, I could get an idea about it.
If you are wondering what is there to learn serving food in vazhai ilai, yes, traditionally there is a way.
That is which dish goes where in which part of the leaf. Though I have not exactly placed the dishes, I have atleast given a rough idea what goes where.
Ah, I should have done this post when I was there at Chennai in June, for my BIL wedding. It would have been easier😉
Side dishes
Firstly, we serve the meals in Thalai vazhai ilai which means the top part of a banana leaf.
In a clean banana leaf, first in the top a thayir pachadi (curd + vegetable) , a varuval (deep fried vegetable), a kootu, a poriyal (mild vegetable with coconut, dry), a curry (spicy vegetable), vadai, a pickle and salt as shown in the pictures.
In the top left hand side part sits a tumbler with water. These all are in the above part of the banana leaf.
And one more important thing is, make sure the broad side of the banana leaf is to the right hand side of person who is eating.
Main course
In the below part of the leaf, towards the left hand side you can keep a fruit. You can serve it at the end of the meals as you eat post meals.
And in the middle, or towards the right hand side, serve hot steamed rice.
Over which in a side, serve getti paruppu (thick dal) to start with the meals. Top it with ghee (not in forzen state, it should be clear).  
We have a habit or mannerism of separating a small part of rice every time when they serve rice and then mix to eat. Not mix in in the same portion of rice in a side or have it without mixing.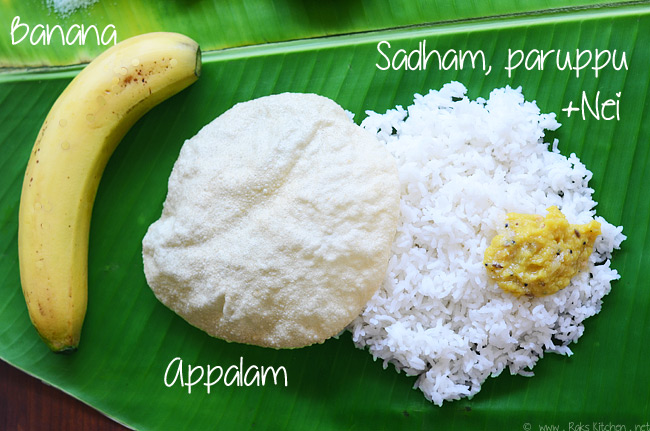 Eating way
As they eat the paruppu sadam, serve sambar on the other part of the rice along with the sambar veggies.
After paruppu sadam, again enough rice if needed and more sambar topping for it. Ofcourse a drizzle of ghee goes for sambar rice as well.
After sambar, if any kuzhambu and then rasam. Each time ask if they need appalam.
After rasam and let them wipe all the rasam to a side of the leaf and then serve payasam. Offer more vadai if they need.
Lastly serve rice and mor (buttermilk). Finally finish it with fruit.
After meal
Our elders needs vetrilai paaku after meals and we keep that as well ready in a plate - vetrilai, paaku and sunnambu (betel leaves, betel nut and edible lime).
That's the way to end a complete south Indian Thamizh style meals. Do you know this aids easy digestion as well as there are nutrients like vitamins, calcium. So you can follow this too.
Above all, serve everything with a smile in your face, which is very important. It will compensate even if your cooking is not good 😉  so SMILE and serve!
My notes
And depending on the occasion you can increase or decrease the menu. For festival times when we cook for our own family, we do not elaborate the meals.
We keep it simple with a poriyal or curry, kootu, sambar, rasam and vadai, payasam, appalam. That's it.
And for offering God, we serve only paruppu and avoid sambar as we include onion in it and only a poriyal without onion.
Others are only for people at home 😉 And I am sorry for the long post, as the meal is elaborate, even I wrote so much 😉
Instructions
So coming to today's lunch menu, it needed more than 2 hours for cooking the whole spread.
Here is how I prepared, cooked the lunch, just to get an idea.
Vegetables I cooked - plantain/ vazhakkai - poriyal and varuval, seppankezhangu/ arbi - curry, cabbage - kootu, vendakkai/ ladies finger - sambar.
Soaking
Soak urad dal for vadai firstly 2-3 hours prior to grinding. Also sago for payasam, I prefer soaking for easy cooking.
So I soaked dal and sago for payasam when I prepared breakfast itself and ground for vadai after I finished all works and chores and entered the kitchen for preparing lunch.
I made vadais with only ½ cup of urad dal, so ground in mixie itself. Its easier when you have lots of works to do. And kept inside the fridge.
Also soak tamarind for sambar and rasam in hot water.
Pressure cooking
Pressure cook dal as well as arbi in a big pressure cooker, kept separately in two containers.
In another small cooker, I cooked mung dal with finely chopped cabbage for cabbage kootu.
Chopping
As these two gets cooked, I did the other cutting works. Plantain for poriyal and keep immersed in water, ladies finger for sambar, 1 onion and tomato for sambar and 1 tomato for rasam, 1 onion for curry, 1 onion for vadai.
Kept ready other things like curry leaves, green chillies and red chillies as needed for cooking.
Prep work
Extract tamarind juice and kept ready for rasam and sambar. Grate coconut.
Grind for thayir pachadi - I made nellikkai thayir pachadi, this time with dried gooesberry powder that my mom gave it to me.
We call it nelli mulli powder. Just we have to grind it along with coconut, green chilli and asafoetida and mix with beaten curd for thayir pachadi. And then grind coconut and things needed for kootu.
Stove work
Now stove work starts. First temper for thayir pachadi, paruppu, kootu. You can temper and keep it in the respective vessels even if the dish is not ready and mix later once ready.
Then keep rasam in the kadai itself and then fry the ladies finger for sambar and set aside, then temper for sambar and prepare sambar. Rasam over and sambar half done!
As the sambar is kept for boiling, by now the other cookers will be ready to open. Prepare koou in other stove.
Peel seppan kizhangu for curry and keep ready. Reserve some dal for paruppu and mix turmeric  and salt with it and mix with tempered and paruppu ready!
In the kadai prepare poriyal and then lastly curry. As the curry is kept for browning, sambar would have been done. You can keep rice in cooker now.
Now lastly prepare payasam and mix every thing needed for vadai and make vadai when everything is over. In the same oil, fry appalam and more milagai (if needed).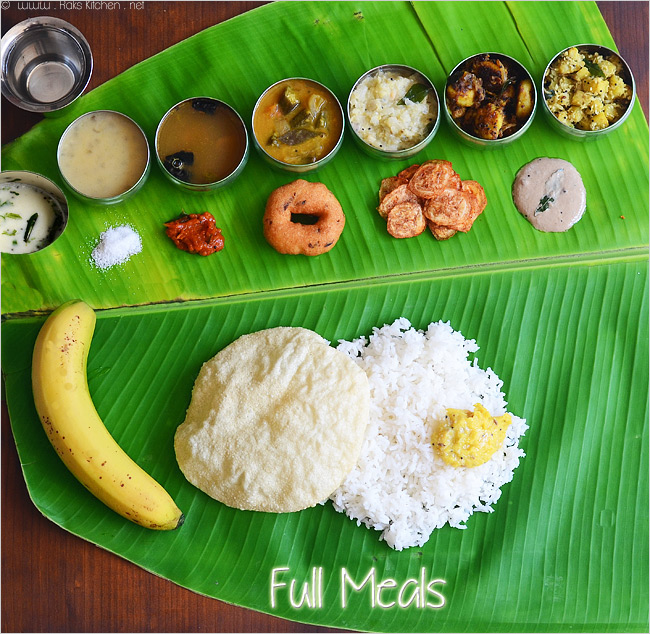 We are done with preparing the meals! Here is what I had in my meals I prepared and the recipes:
With rice, appalam, banana also in the leaf as seen. The seppankizhangi recipe is similar to my potato curry recipe. So you can refer that!
You can change the menu according to the availability of veggies, just browse through the recipe index!
These are only my understandings upon the south Indian Thamizh thalai vazhai ilai saapadu.
Happy tummy! Have a great weekend!
Recipe card
South Indian full meals
South Indian meals, a typical full meals as we call it thala vazhai ilai sappadu (South Indian banana leaf meals). Learn how to plan, prepare, serve a meal in banana leaf in this blog post.
Equipments (Amazon Affiliate links)
Cup measurements
Ingredients
Nellikkai thairpachadi recipe

Getti Paruppu

Vazhakkai varuval

Vazhakkai Poriyal recipe

Seppankizhangu curry (Arbi curry)

Cabbage kootu recipe

Vendakkai sambar

Rasam

Medhu vadai recipe

Sago/ javvarisi payasam recipe

Thakkali thokku recipe

Buttermilk

Homemade curd
Instructions
Please check individual recipes for instructions