South Indian weekday lunch planner for this upcoming week. I have not visited little India side this week, so I am going to manage with the vegetables available in local groceries around my home. I can manage for a week with all the vegetables like this, but not after that. I will start missing the Indian vegetables like drumstick, broad beans, plantain, especially my favorite brinjal😀.
Check out the recipes South Indian weekday lunch planner:
Chopping over the counter top and keeping the area clean is possible. You can choose to either spread a newspaper (layered) and after finishing, your chopping work, the scraps can be bundled and thrown to bin. Or, keep a wide basket/ container especially for collecting scraps nearby and put the scraps as you chop/ peel. Then easily throw into bin. 
While cooking and trying to manage the stove clean, I keep a wet cloth to wipe the spills over the stove as I cook. But not all the times, when cooking in usual days it is possible, not in hurry burry days when you are time pressed😜. So do not compel yourself for anything, do whatever it is convenient, for you. 
Here's the shopping list for vegetables.
Last week's menu at a glimpse 😊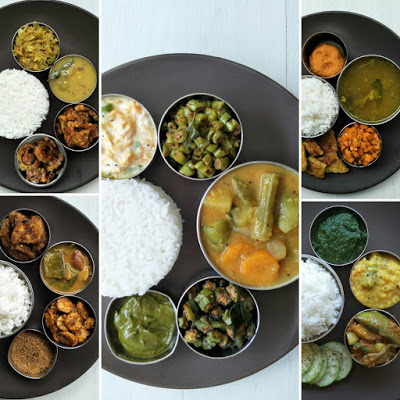 Updated lunch plate picture