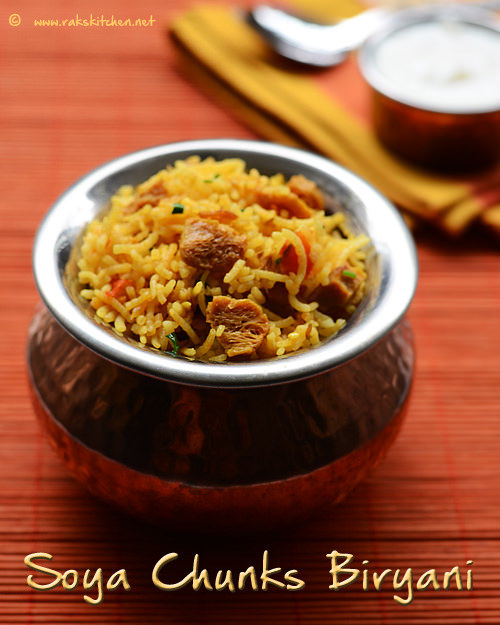 Inspite the numerous health benefits, my family does not like to eat soya chunks. Aj is fine with
soya chunks curry
. I am a great fan of soya chunks in kurmas. But other than us, no one likes it. Also they will ask me weirdly that I am cooking and eating soya chunks
. I too rarely cook but as Vj doesnt eat. So after a short break, I bought this Manna soya chunks pack in Mustafa. Unlike the small soya chunks I buy regularly, this was the medium sized which I am handling for the first time. But after making this biryani, the result was perfect, so I am sure I will use this pack effectively. And this Biryani recipe, though I wanted to follow a supplementary book's recipe, I ended up making biryani in a way that I learnt from a friend (
sukku kuzhambu
,
vada curry
and
pattani kuzhambu
fame). She uses this recipe to make vegetable biryani. It will be awesome. But I adapted that too for my convenience. And it turned out really good and perfect.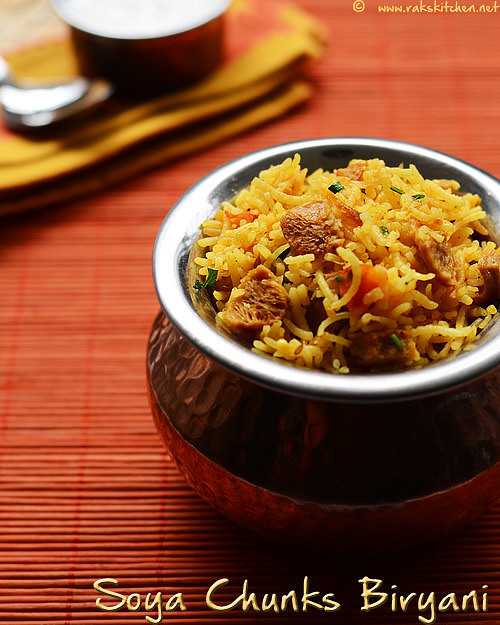 Soya chunks biryani recipe
Recipe Cuisine:
Indian
|
Recipe Category:
Lunch
Prep Time
:
35 mins
|
Cook time: 25 mins
|
Serves
:
2
Ingredients
Basmati rice - 1 cup
---
Soya chunks - 30
---
Onion - 1
---
Tomato, small - 1
---
Curd - 3 tblsp
---
Turmeric powder - ¼ tsp
---
Red chilli powder - 1 & ½ tsp
---
Green chillies - 3
---
Mint leaves - 15
---
Coriander leaves, chopped - 3 tblsp
---
Ginger garlic paste - 1 & ½ tsp
---
Ghee - 1 tsp
---
Salt - As needed
---
To temper
Ghee or oil - 3 tblsp
---
Cinnamon - 1 inch piece
---
Bay leaf - 1
---
Cloves - 1
---
Cardamom - 1
---
Jeera/ cumin seeds - 1 tsp
---
How to make soya chunks biryani method
Soak basmati rice in warm water for 30 mins atleast. I used medium sized soya chunks (it may look different in size because of camera lens).

Boil water with ¼ teaspoon salt and add the soya chunks. Cook in medium flame for 10 minutes.
Rise with cold water and squeeze it till dry and again repeat it. Keep aside.

I cut each chunk to two, its optional. Keep all the other ingredients cut ready. Then after the rice is soaked for 30 mins, boil 5 cups water and add rice to it.

Let it boil for 5 minutes or until its 90% done. Add few mint leaves torn to this, add little salt and a teaspoon of ghee.

Toss and keep aside. Heat a small pressure cooker with ghee. Temper with items given under 'To temper' table in order.

Add sliced onion, fry till transparent. Add soya chunks, ginger garlic paste and fry until dry for 2 minutes in medium flame.

Add tomato, salt, red chilli powder, green chilli and turmeric. Fry until tomatoes become soft.

Add curd, remaining mint leaves and fry for 2 more minutes.

When it becomes thick, add ¼ cup water and bring to boil.

Add the cooked rice and mix evenly. Flatten with back of ladle and cover with cooker lid (I do with the pressure valve). I can keep the flame really low in my stove burner, so how much ever its is possible keep the flame low and cook for 12 minutes. You can keep over a dosa pan too if you cant put flame in low.

After 12 mins, let it stand as it is for 5 minutes and open the cooker, add chopped coriander leaves and mix gently.
Notes
Soaking rice in warm water helps in rice getting cooked fast and also gives long grains.
I used India gate aged rice.
Adding ghee, salt and mint leaves immediately after draining the rice adds a lots of flavor. So do not skip it.
Do not cook the rice too much time before making the biryani. Make sure to use the rice as soon as it is cooked. If you keep the boiled rice for long time, it will become dry and be like uncooked rice.
Do not over mix as it will break the rice grains.
Washing and squeezing the cooked soya chunks completely, ensures to get rid of the smell.
You can add vegetables along this too.
Serve hot with onion raita the best or even you can add a vegetable kurma as side dish.
Check out the other soya recipes : Soya chunks curry recipe | Soya kheema toast recipe | Soya kheema paratha | Soya bean dry curry