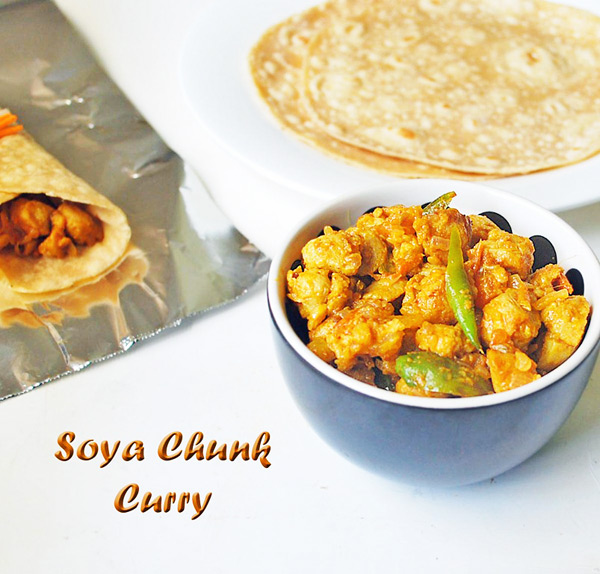 Soya chunks curry recipe – juicy and with lots of flavorful masalas, spices. with step by step pictures. I had soya chunks/nuggets in my hostel canteen,when I was studying in Trichy. We get
mixed vegetable kurma
with soya chunks in it. My friends told that it was soya chunks when I was clueless about it. And I loved it very much when I had it for the first time itself. But I have never thought of asking my mom to cook it for me,don't know why!
Soya chunks
Then after coming to Singapore and when I saw these soya chunks in the store,I took a pack of it and wanted to try at home. That time I was very new to cooking and don't even know the handlings of masalas and how to cook this soya chunks. I tried a curry from a cook book and it came our terrible!!! I dint fry the GG paste well,I added too much of coriander powder and I dint follow the pre-preparation of the soya nuggets. Also the major thing was I chose a very big sized soya nuggets. So the masala dint blend well with the chunks and now you know why I said it tasted terrible 😀.
Now I must really thank the readers who insisted me on posting soya chunks recipes. Otherwise I would not have mind to try this out again… But the sad thing is my hubby hates this and won't even touch this 🙁. Yet to try with my kid,but I think he would love this in kurma or as a side dish for roti. Let me see 🤞.
This time I chose tiny nuggets and I adapted the same recipe,but modified to my convenience and taste.The result was so so yummy and flavourful curry, without any odd smell of the soya chunks. So the key💡 in soya nuggets recipe is to cook it without the smell of it, with flavourful masalas!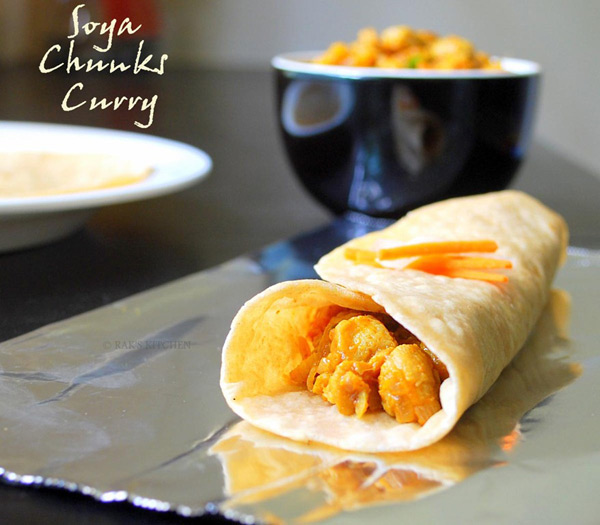 Soya Chunks curry recipe
Recipe Cuisine:
Indian
|
Recipe Category:
Side dish
Prep Time
:
10 mins
|
Cook time: 25 mins
|
Serves
:
2
Ingredients
Soya chunks/ nuggets – 1 cup
---
Onion(large in size),chopped – 1
---
Tomato,chopped – 2
---
Green chillies – 2
---
Ginger garlic paste – 1 tsp
---
Turmeric – ⅛ tsp
---
Sambar powder – 2 levelled tsp
---
Curry leaves/coriander leaves – as needed
---
Salt – As needed
---
To temper
Oil – 1-2 tblsp
---
Cinnamon/pattai – 1 small piece
---
Cloves/Krambu – 2
---
Fennel seeds/soambu – 1 tsp
---
Method
Pressure cook the soya chunks with 2 cups of water and a tsp of salt,just for a whistle. (If you don't want to pressure cook,just boil it in water for 5 mins with salt and add it and squeeze the water,do it twice to get rid of the soya smell) Drain the water and wash it in tap water once. (squeeze it if there is so much of water,I dint squeezed as it was well drained)

Heat a pan with oil and temper with the items given under 'To temper' table in order.Add curry leaves.Add the chopped onion,slit green chillies and fry till transparent. Add ginger garlic paste and fry for a minute in low flame. Add the chopped tomatoes and fry till mushy(add required salt).Add turmeric and sambar powder.Fry for a minute.

Add the soya chunks and mix well. Fry for 4 minutes till the masala blends well with the soya chunks. Serve as accompaniment for rice or with roti.
Notes
I have used sambar powder(refer side bar),replace it with a red chilli powder and coriander powder.
I have used whole spices,you can just omit it and just season with fennel and use garam masala powder,add along sambar powder.
You can add lemon juice towards end if you like it more tangy.
I had it wrapped in roti,had a hearty meal and the smell is still lingering😋… I am going to try and keep posted few other soya recipes in recent future…