I just love the
soya chunks curry
for its flavour and health factors. I can eat it with
roti
for a filling meal! Aj too loves it with roti but he prefers the other side dishes for it. So once I made this soya keema curry, he wanted toast with it (Inspired from Kailash Parbat soya grill). I made it and gave him and he loved it a lot. Then it became now an easy snack for both of us. We usually make it in sandwich maker. But for the post I made it in tawa. I used wholemeal bread. You can use the plain white bread too. You can make this soya keema curry in your free time and make sandwich/toast when your kid comes really hungry back from school. It makes them feel full and its healthy too! You can find this type of soya – soya chura in the MDH brand.
Ingredients
soya chura/granules – 1 cup
Onion- 1
Tomato- 2
Ginger garlic paste– 1 tsp
Sambar powder- 1 & ½ tsp
Green chilli (optional)- 1-2
Turmeric- ⅛ tsp
Salt – as needed
Coriander leaves,chopped- 2 tbsp
To temper
Oil – 2 tbsp
Cinnamon – 1 inch piece
Cloves – 2
Fennel – 1 & ½ tsp
Curry leaves – 1 sprig

Method
If you are using soya chunks, use this step. If using soya granules/ chura, skip this step and proceed to step 2. Boil the soya granules with enough water. Drain and wash it. Again boil it with enough water, salt and a tbsp of milk. Milk is to remove the soya smell. You can also pressure cook with water,salt and little milk for one whistle in a small pressure cooker. Drain water and keep aside.
Heat pan with oil and add the items given under 'To temper' table in order. Add onion,green chillies and fry for a minute. Add ginger garlic paste and fry another minute in medium flame. Add tomatoes and salt and fry till mushy. Add the sambar powder, turmeric and mix well.
Add the drained cooked soya granules and mix well.
Cook for 5-8 minutes in medium-low flame or until the masala blends well with the soya and garnish with coriander leaves.Sprinkle water if needed.
Spread this Keema in between your bread and toast both sides until golden in colour.
The smell of the masala is just great! Fennel, GG paste and curry leaves with other masalas makes an awesome combination of flavour! Enjoy with coffee/tea or serve it as an evening snack for kids with any juice.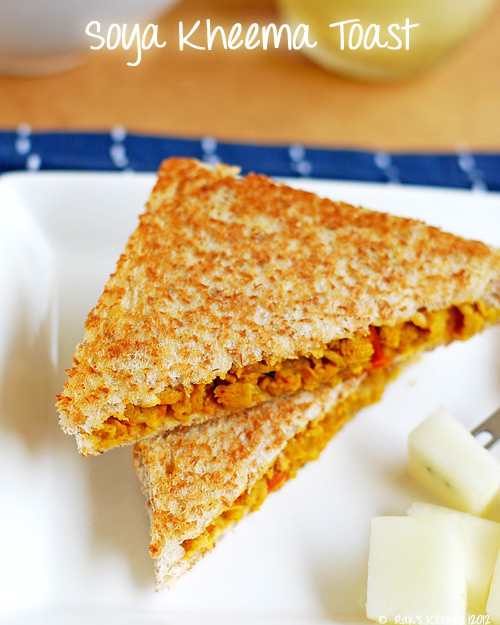 Notes
If you don't have ginger garlic paste, grind 5 cloves of garlic with equal amount of ginger with fennel and green chillies. Add this paste after frying onion. Need not temper with the fennel seeds as we are grinding.
Green chillies can be avoided if you are giving to kids. But please do not skip curry leaves as it adds a lot of flavour to this curry.
The knack in cooking this soya is the masala should be more or less equal to the soya we use so that the masala blends + coats the soya well. Make it spicy to enjoy fully!