Spaghetti with spinach is perfect for lunch, makes such a satisfying meal with goodness of greens and flavor from garlic.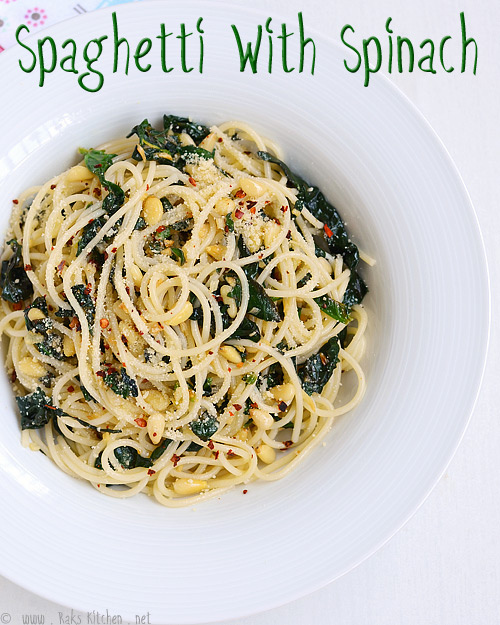 I like the combination of pasta and spinach always, like in this recipe. It goes well with each other.
So when I saw this recipe in the cookbook I borrowed from library, I loved the simplicity of the recipe and sounded healthy too.
Made it last week for my lunch. It was so filling and had a hearty meal. Make it for your kid, they would love it too. The flavour burst of garlic and the tanginess lemon gives, yummy!
Spaghetti with spinach recipe
Recipe Cuisine:Continental  |  Recipe Category:Lunch
Prep Time:10 mins    |  Cook time: 30 mins     |  Makes: 2
Ingredients
Spaghetti - 250 gm
Spinach - 1 cup
Garlic - 4 cloves
Parmesan, grated - 2 tbsp
Lemon - ½
Pine nuts(optional) - 2 tbsp
Olive oil - 4 tbsp
Salt - As needed
Chilli flakes - 2 tsp
Method
Boil enough water with salt and cook spaghetti in it as per package instructions. Once done, drain it and mix a tblsp of oil to it and keep aside.
Wash spinach leaves and keep it immersed for a minute (blanch) and again wash it in cold water.
Chop it roughly and peel and chop garlic also very finely. Heat a pan with 3 tablespoon oil in medium heat. Add garlic cook it for 2-3 minutes in low flame.
When it turns golden, add spinach in a scattered way and mix well.
Switch of the flame and squeeze the lemon and add pine nuts if desired.
Mix well and mix it with the cooked pasta in a large mixing bowl. Add cheese, little salt, chilli flakes and mix well.
Notes
Baby spinach can be used as in the original recipe.
Pine nuts is purely optional, but please add cheese and do not skip it.
For healthier version, replace spaghetti with whole wheat spaghetti.
Garnish with more cheese and chilli flakes as needed at the time of serving.