Sweet corn is all time kids favorite and for us too. Vj is a big fan of the sutta solam, the corn that is slightly chewy and harder in texture when compare to the sweet corn variety. I love to taste it, but my jaws get tired of chewing. Sweet corn is my favorite though they say the other one is healthier choice. And this is one favorite way of having sweet corn.
Ingredients :
Sweet Corn - 1
Salt - as needed
Chat masala - ½ tsp
Red chilli powder - ¼ tsp
Lemon juice - ¾ tsp
Method
Remove the skin and clean the corn.
Take the corn kernels carefully,and wash it to remove any impurities. Remove one line vertical and then you will be easy to push the next line towards the empty space. This is my easy way to remove the kernels from corn.
Transfer the kernels to microwave steamer or a microwavable container (add enough water to immerse the kennels.)
Cook in high power for 4 minutes and give a minute for standing (time).
After that transfer the cooked corn kernels to a bowl and add the spice powders,salt and lemon juice,and mix well.
I added very less than told here, coz my kid wanted to eat it.
Adjust the spice level according to your taste..And note that in chat masala there's salt,and adjust the salt quantity accordingly!!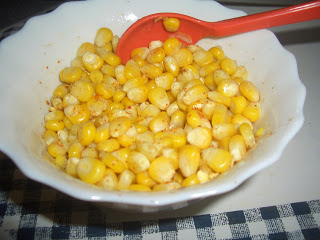 Another Simple way to enjoy corn.


Simply keep the corn in the microwave oven in high power for 3-4 minutes without removing the outer skin/layer. Change the corn's position in the middle of cooking, inside oven for even cooking. Give one minute standing time and carefully remove the outer layer and enjoy the corn by sprinkling salt and red chillie powder over it.