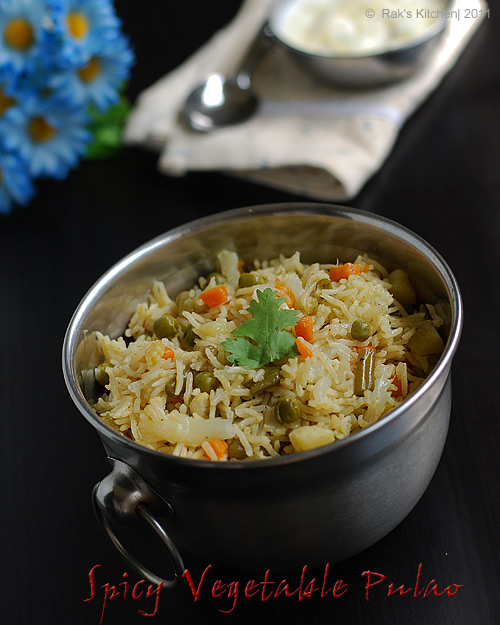 We call this "Vegetable Biryani" in our home. As far as I know, my mom makes rarely biryani and my mom in law never makes biryani! They dont use cinnamon,cloves,fennel,bay leaves in their cooking. Till now my MIL hates those masalas… But after I came here to SG I started experimenting and started using these masalas and my kid loves it! My kid started eating biryani at the age of 2 and he used to eat only biryani most of the days that time!! I too am used in handling all these masalas now a days …
And coming to this vegetable biryani recipe, I always make each time a different way or follow a recipe for a while and then get bored of that and keep changing the recipe now and then. So once when I had this biryani in Jeyashri's home, me and my kid loved it a lot and being food bloggers, I asked for the recipe and she too shared,then for a while now I am hooked to this recipe. I made this last week when my SIL visited us and the kids enjoyed the biryani. So I thought of sharing the recipe too.
Vegetable biryani recipe
Recipe Cuisine:
Indian
|
Recipe Category:
Lunch
Prep Time
:
30 mins
|
Cook time: 30 mins
|
serves
:
3
Ingredients
Onion - 1
---
Mixed vegetables* - As needed
---
Sambar powder/red chilli powder - ½ tsp
---
Salt - As needed
---
Coriander leaves - 2 stems
---
Ghee - 1 tblsp
---
Basmati Rice - 1 cup
*I used 1 carrot,1 potato,8 beans,1 fist full of frozen peas,2 baby corns,10 small florets of cauliflower.
To grind
Mint leaves - 10
---
Green chillies - 4
---
Garlic (big variety) - 4
---
Fennel seeds - ¾ tsp
---
Cardamom - 1
---
cloves - 1
---
Star anise - ½
To Temper
Oil - 3 tblsp
---
Jeera - 1 tsp
---
Bay leaves - 1
Method:
Soak the rice for at least ½ an hour. Grind the items given under 'to grind' table with little water to a smooth paste.

Chop the veggies to your desired size.Slice the onion. Heat a cooker with oil/ghee and add the items given under 'To Temper' table in order.

Add onions and fry just transparent. Add the ground masala.

Add sambar powder and fry in medium flame for 2 minutes.Add the veggies except cauliflower.

Fry for 2 minutes and add the drained,soaked rice. Give it a stir.

Add 1 and ½ cups water,salt and mix well. Check for salt and bring to boil.Add the cauliflower at this stage and mix well and cover with the lid.

Keep the flame in lowest possible. Cook for 8-10 minutes,give a gentle stir in between. If you want to pressure cook with whistle,then give 2 whistles in medium flame.

Top with ghee and coriander leaves and serve hot with onion raita!
Notes -
Variations you can make
Add chopped tomatoes or a teaspoon of lemon juice along with the veggies.
Fry cashews and bread squares in ghee and top the Biryani.
The water quantity varies with the quality of the basmati rice.
Soaking the rice for more time gives moist rice and gets cooked easily. So soak as much as possible.
You can add vegetables of your choice.
I added cauliflower in the end because,the cauliflower we get here gets mushy soon. If you are using organic cauliflower you can use it along with other veggies.
You can cook in thin coconut milk instead of water.
You can also grind ¼ cup of coconut along with the ingredients to grind.
Add oil or ghee generously to get rich taste.