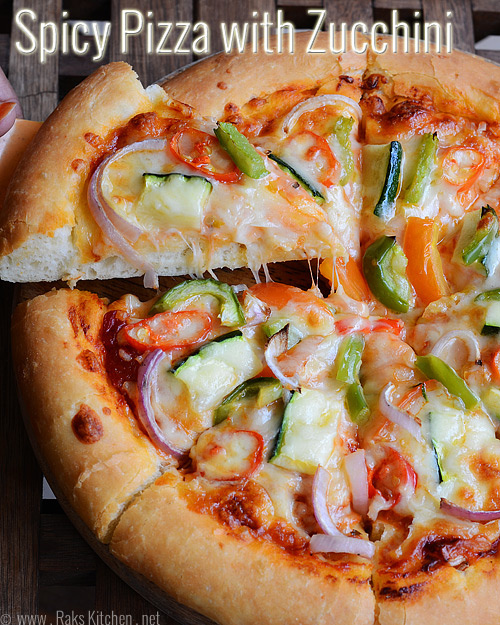 I make pizza very often at home, atleast once in a month! Aj just loves it. Vj is not a big fan. I too love pizzas, be it ordered or homemade. If its left over, I will also eat (and feel guilty later). If any kids come home, I just make this and they too love it. This pizza dough recipe is such a keeper. I have been using this same until now. Same as in my first homemade pizza and in the paneer tikka pizza . It comes out perfect and the measurements are so precise. Soft and stays soft even after cooling down and above all homemade!
This spicy pizza is an inspiration from pizza hut's Spicy veggie pizza. Vj likes Dominos pizza, but Aj loves only pizza hut pizzas. So Vj's choice will be this spicy veggie pizza. Though its different from the one I tried, the concept of using chilli and zucchini, I grabbed from that. They use a spicy sauce with thai red chilli padi. But I used as topping and used cayenne pepper. Its not too spicy, but its mildly spicy. And I have tasted zucchini in my life first time only in the spicy veggie pizzas and loved it. So I thought of trying at home. Zucchini and cheese are made for each other and goes well with pizzas. Now a days I am sure in India also we get these zucchini. Sometimes we get colourful zucchini here – green, red and yellow. I used green. So when you are making for kids, you can use the colourful zucchini together in pizzas to make it appealing.
How to make pizza full video (with different topping in the video)
Spicy veggie Pizza recipe
Recipe Cuisine:
Indian
|
Recipe Category:
Snack
Prep Time
:
1 Hr dough resting time
|
Cook time: 20 mins
|
Makes
:
1 large pizza
Ingredients
All purpose flour/ Maida – 1 & ½ cup
---
Instant Yeast * – 1 tsp
---
Milk – ¼ cup
---
Water – ¼ cup (approx.)
---
Olive oil – ⅛ cup
---
Salt – ¾ tsp
---
Sugar – 1 & ½ tsp
---
*You can replace with active dry yeast – 1 tblsp, refer notes
For topping
Pizza cheese/ Mozzarella, grated – ¾ cup
---
Onion, tomato, capsicum and zucchini – As needed, chopped
---
Red ripe chilli (Cayenne pepper) – 1
---
Pasta sauce – 2 tblsp
---
Method
In a bowl, mix flour, salt and yeast. Mix milk and water and heat it just luke warm. Dissolve sugar in it. Now add this milk and olive oil to the flour and mix.
Make a smooth dough. Knead for 5 minutes. Keep aside covered with a cling wrap. Preferably in a warm place. I keep inside the oven with oven light ON. After an hour or 1 & ½ hour, the dough would have doubled and risen.
Preheat the oven to 200 deg.C . Get the toppings ready. Knead again the dough smoothly and in a well floured surface, roll out into thick pizza (dust the surface generously if sticky). Just make the sides like a rim. Transfer this to a well greased and sprinkled with some flour pizza pan.
Spread pasta sauce inside the rim and spread some half of the grated cheese, I used mixed cheese.
Arrange the toppings as desired in pattern or just toss the toppings here and there and cover with the remaining grated cheese.
Bake for 14 – 15 minutes in a preheated oven until the cheese melts and pizza turns golden in colour. The pizza should move freely in the pan, with which you can check if its cooked perfectly.
Notes
I used instant yeast – which has to be mixed with the flour and kneaded.. But if you are using other yeasts, you have to dissolve the yeast in luke warm milk in step 1. Keep the yeast solution for 5 minutes so that it will become frothy. This ensures the yeast is active. If it has not become frothy even after 10 mins, then you yeast is not good enough to bake. So do not proceed making pizza, otherwise you may end up in hard pizzas or smelly pizzas.
Do not skip sugar.
You can use 50 50 wheat flour and all purpose flour too.
Water quantity is approximate and just use it as only a guidance and adjust accordingly.
The dough should be soft and pliable and not stiff to get a soft pizza.
Feel free to use your own toppings.
More cheese = more tasty, but do not overload, otherwise, centre of the pizza will be looking white and gooey.
Do not roll too thick, remember, the dough will rise a bit while baking too.
Here we go with homemade soft and delicious pizza that will melt in your mouth and kids would love each and every bite of it.