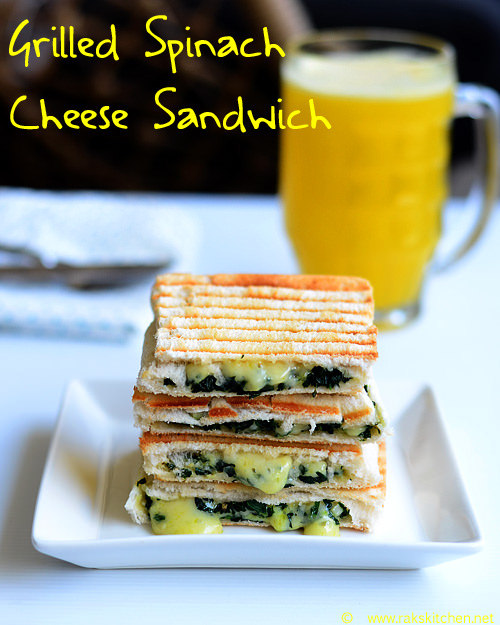 These days, I am not liking to have rice for lunch and look for easier, as well as healthy options that is quick and interesting enough too. For a while now, sandwiches makes me comfortable. So I make some sandwich for my quick fix. I remembered once we tried corn spinach sandwich in KP, but sadly it was not tasting that good, or may be we didn't like it. Never thought to try at home too. But one day when I was thinking what to make for lunch, I remembered having some spinach in fridge and thought of using it by making something simple. It was a weekend and Vj too was at home. So I tried making my version of spinach sandwich. I made it with white bread for him. Healthy too with spinach.
Spinach cheese sandwich recipe
Recipe Cuisine:
Indian
|
Recipe Category:
Snack
Prep Time
:
15 mins
|
Cook time: 25 mins
|
Serves
:
2
Ingredients
Bread slices – 6
---
Finely chopped spinach – 1 cup tightly packed
---
Garlic – 2
---
Black pepper powder or chilli flakes – 1 tsp
---
Sour cream or hung curd – 2 tblsp
---
Mozarella cheese or any grated cheese – ½ cup
---
Sugar – ¼ tsp
---
Oil – 2 tsp
---
Salt as needed
Method
Wash spinach and finely chop it. Since we wash and cut, there will be some water retained, but let it be there, it will help in cooking. Finely chop garlic too.

Heat oil in pan and add finely chopped garlic to it. Sautee for a minute and add spinach and salt. Sprinkle sugar, Cook until spinach reduces in volume and gets cooked. Take care not to over cook.

Transfer to a bowl. Add sour cream, pepper powder to it. Mix well and keep aside.

Mean while you can heat the sandwich maker with the griller plates. If you do not have sandwich maker, you can do this in stove top with tawa/ flat pan too. In a slice of bread, spread the prepared spinach mix and sprinkle some cheese in the middle.

Grill for 2-3 minutes in a well greased sandwich maker, after the green light is on or follow the instructions from the manual of your sandwich maker. Just make sure to bring golden crisp lines over the sandwich.
Notes
I have used grated mozzarella cheese, but you can use your own choice of cheese. Make sure to use less, otherwise it will ooze out as you grill.
Grilling for longer time may also cause the cheese to ooze out. I prefer grated cheese over sliced cheese sheets for my grilled sandwiches. I also spread the cheese in the middle more.
You can use some grated paneer too along with cheese and reduce the cheese.
Serve hot! We had with fresh pineapple juice… so so yummy!