Green gram sprouts in stock? Try this for lunch instead of regular fried rice. A baked gobi 65 will make it more appealing along with vegetable gravy.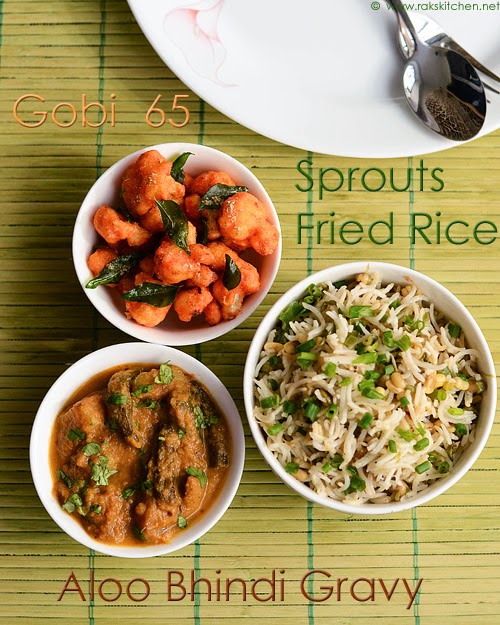 This lunch menu needs some preplanning as we need sprouts for the fried rice.
I planned this menu two weeks back itself, when I planned for my last week's lunch menu with rajma masala.
Jump to:
Yes, I soaked rajma and the green gram together as I always forget to soak, I wanted to make it together.
I sprouted the green moong then in the following days. You can also use readymade sprouts if you want, but sprouting at home is more hygienic and easy too.
Just soak overnight, next day, drain water and keep sprinkling water for a day as such in the container with the green moong, it will start sprouting.
No need to hang it in muslin cloth and complicate, it sprouts in the bowl itself.
Only thing we need to take care is sprinkle water few hours once to make sure it doesn't get dry.
You can also refrigerate, it will continue sprouting, so make sure you use it within a day or two. Otherwise, if you want to store for long time, transfer to a ziploc and freeze it.
I really had no idea what to make as side dish as I am bored of manchurian side dishes, so made use of the veggies I had in the fridge and made what ever possible.
Both side dishes are Aj's favorite. Here's how I made this lunch (considering you have already sprouts)
Instructions
Sprouts fried rice, Aloo Bhindi, gobi 65
Recipe Cuisine: Indian | Recipe Category: Lunch
Prep Time: 30 mins (excluding sprouts preparation) | Cook time: 1 Hr Serves: 3
Soak basmati rice in warm water. Let water is kept for boiling to blanch the cauliflower, mean while which you can cut it.
Blanch, cool and marinate for gobi 65 first and keep refrigerated.
Next clean the ladies finger, cut and let it simmer in a frying pan (with oil). Meanwhile which you can cut potatoes (I cubed this time).
When ladies finger is done, fry potatoes same way simmered in the pan and mean while which you can chop for grinding the gravy for aloo bhindi.
Keep rice in cooker in between and pressure cook with 1 : ½ cups water for 3 whistles in medium flame.
Prepare the gravy and let it be simmered while you cut the needed for fried rice.
Gravy should be done, keep aside. Once rice is done, prepare the fried rice(cool rice before tossing the fried rice).
Lastly fry the gobi 65 in batches and enjoy the lunch hot!
This lunch menu has Sprouts fried rice, aloo bhindi masala gravy and gobi 65.
Recipe link
Check out the links for the recipes with step by step pictures
You can also make any manchurian side dishes like
Check out the other fried rice recipes too