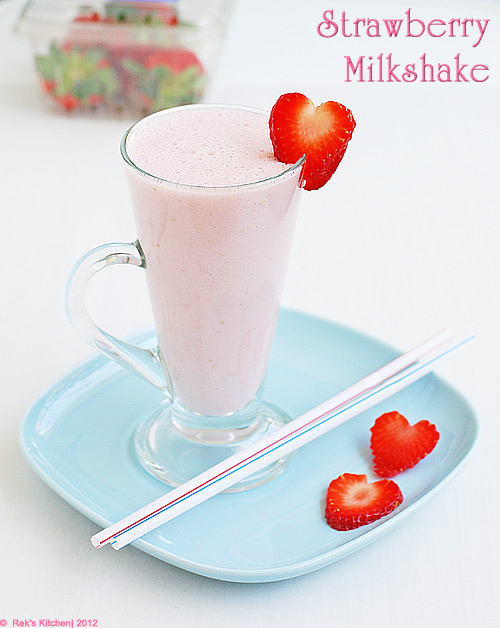 After the strawberry lemonade, I made milkshake with the remaining strawberries. I used to be an addict of Newzealand's strawberry milkshake when I was staying in Simei. Our HDB building was just next to the Eastpoint mall, when ever we go for shopping weekly groceries there, we never miss to buy that! And now I realize why I put on weight! It will be so rich, sweet and delicious. I love Hagen daz strawberry ice cream equally. That's how I got bored of strawberry flavour. Now after so long I made strawberry milkshake the other day with the left over strawberries and had. I made a low fat version, but you can make it with either vanilla ice cream or a good quality strawberry ice cream to make it even more rich for you kids.
Strawberry milkshake recipe
Recipe Cuisine:
Continental
|
Recipe Category:
Drink
Prep Time
:
5 mins
|
Cook time: 0 mins
|
Makes
:
1
Ingredients
Milk – 1 cup
---
Strawberries – 5
---
Ice cream* – 2 scoopS
---
Sugar – As needed
---
* Good quality vanilla or strawberry ice cream.
I used only vanilla milk powder(bought from coffee bean) to make the shake thick.
Method
Wash the strawberries and slice it roughly and place in a blender along with the other ingredients. Blend well until you get frothy, smooth milkshake.
Notes
If using ice cream use a rich good quality ice cream, it really is a factor for a great tasting milkshake.
I used low fat milk and low fat vanilla milk powder from coffee bean instead of ice cream.
Low fat and the normal milkshake with ice cream have taste wise difference for sure. So its your choice if its taste or calories!
Your pinky pinky, girly milkshake is ready to enjoy! Garnish with strawberries if desired while you serve.