Bajji chilli / bajji milagai stuffed with a potato masala and made as bajji. Very delicious tea time snack.
When we came here to Singapore, I used to make chilli bajji often, as we get bajji milagai in mustafa. Then really got bored of it and stopped buying. I wanted to try stuffed version of chilli bajji (stuffed chilli pakora, as this is popularly know by many). I once have tried making this but did not turned out proper. The chilli was not cooked at all. It was crunchy and no flavour/ taste in it. So was not that eager to try again. Last time when I went for monthly groceries purchase, picked this pack of bajji chilli and thought of trying stuffed chilli bajji. So weekend I made this and even Aj had this one happily.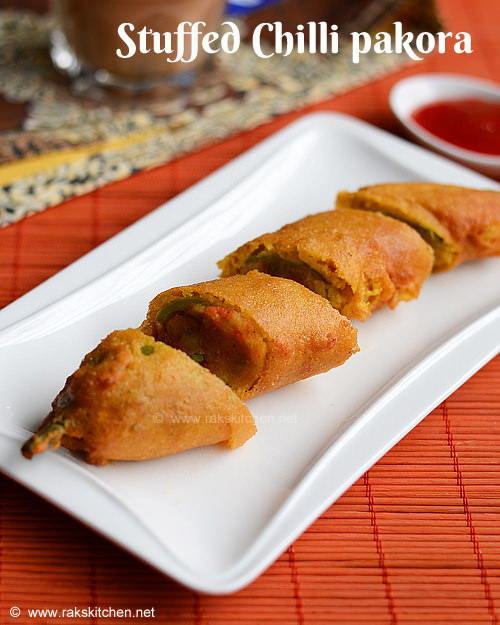 How to make stuffed chilli bajji video:
Stuffed chilli bajji recipe
Recipe Cuisine:
Indian
|
Recipe Category:
Snack
Prep Time
:
15 mins
|
Cook time: 20 mins
|
Serves
:
4
(8 bajjis)
Ingredients
Bajji chilli – 8
---
Potatoes – 5-6
---
Red chilli powder – 1 & 1/2 tsp
---
Coriander seeds powder – 1 tsp
---
Garam masala – 1 tsp
---
Dry mango powder – 1/2 tsp
---
Roasted cumin powder – 1/2 tsp
---
Turmeric – 1/4 tsp
---
Coriander leaves, finely chopped – 4 tbsp
---
Salt as needed
---
For bajji batter
---
Chickpea flour (besan) – 3/4 cup
---
Rice flour – 1/4 cup
---
Cooking soda – 1/8 tsp
---
Red chilli powder – 1/2 tsp
---
Roasted cumin powder – 1/2 tsp
---
Asafoetida – 1/4 tsp
---
Turmeric – 1/4 tsp
---
Salt – As needed
---
How to make stuffed chilli bajji step by step method
Slit the green chillies and take out the seeds in it, by scooping with a spoon carefully.

pressure cook potato, cool down, peel and crumble it.

Add all the masala powders – red chilli, garam masala, coriander, cumin (bhuna jeera), dry mango powder (amchoor), turmeric, salt and coriander leaves. Mix well and keep aside.

Stuff it with the prepared potato mixture. Do not over stuff, just fill it.

Prepare thick batter with besan, rice flour, cooking soda, chilli powder, cumin powder, asafoetida, turmeric and salt, required water. It should be thick enough to coat the chilli.

Dip the stuffed chillies in the prepared batter and coat it fully.

Heat oil and carefully slide the dipped chilli into the oil. fry one or two at a time.The oil should be hot when you drop the bajji. When it gets fried, let the flame be in medium, so that the bajji gets cooked properly.

Flip inbetween once and when it is golden and crisp, drain over paper towel.
Tips
Always use spoon to scoop the seeds, if you use your fingers, then it will burn through out the day.
Make sure to spice and salt the stuffing properly. I have used smaller potatoes, so, make sure to adjust the spice or potato quantity.
Add red chilli powder as per your preference as chilli at times could be spicy too.
If the seeds are not taken out properly, it will be really spicy.
Cut into small pieces and serve hot with tomato sauce or green chutney. Can have it as such too, with tea or coffee.