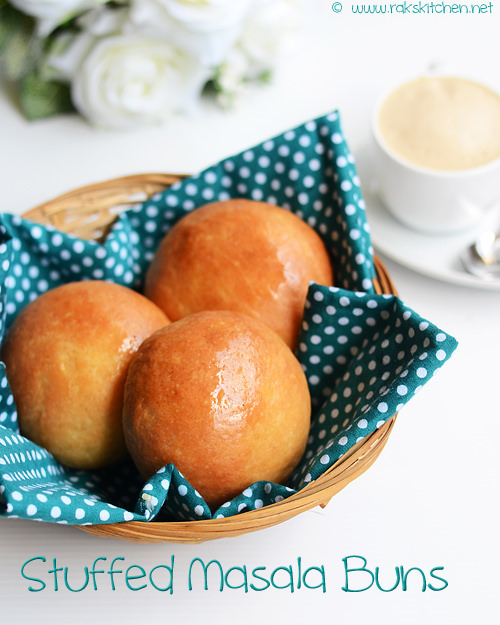 I had long time wish for trying out these stuffed buns/masala buns. When ever any of our blogger friends post stuffed buns, I always wish I could try it out and today is the day! I just followed the same recipe for the dough as my pizza dough…Stuffing also of our own choice/imagination. I have posted a
pizza bun
too check it out!
Stuffed masala buns recipe
Recipe Cuisine:
Indian
|
Recipe Category:
Snack
Prep Time
:
1 Hr dough resting time
|
Cook time: 30 mins
|
Makes
:
6
Ingredients
Maida/All purpose flour - 1 & ½ cups
---
Milk - ¼ cup
---
water - ¼ cup (add if more needed)
---
Active dry yeast - ¾ tblsp
---
sugar - 1 tbsp
---
Salt - ¾ tsp
---
Olive oil - 3 tbsp
For stuffing
Potato - 2
---
carrot,beans,peas (together) - ½ cup
---
Onion - 1
---
Jeera or ajwain/omam - 1 tsp
---
Garam masala powder - ¼ tsp
---
Red chilli powder - ¼ tsp
---
Turmeric powder - ⅛ tsp
---
Coriander leaves, chopped - 3 tbsp
---
Lemon Juice - from ½ lemon
---
Oil - 1 tsp
---
Salt - As needed
Method
Warm the milk,add sugar to it and mix well. Add the yeast to it and mix well. Keep aside for 5 mins. It will froth and raise. This means your yeast is good to use in this recipe. If it doesnt, your yeast is old and not active. Do not proceed to make the recipe. Try new stock of yeast. Just make sure the milk is just luke warm, not hot.

Take flour and make a dent,add water,olive oil,salt in it and the yeast completely dissolved in the milk. Mix and make a smooth dough,keep in a warm place covered with a cling wrap for an hour.

Meanwhile prepare the stuffing. Cook the vegetables and heat a pan with oil,season with jeera/ajwain,add the onion and fry till transparent. Add the masala powder,red chilli powder,turmeric and salt and give it a quick stir

Add the cooked,mashed vegetables and fry till everything mixes well. Remove from fire and add the coriander leaves and lemon juice if desired,mix well.

By now/after an hour, the dough we prepared would have doubled in size. Take it again and just give it a gentle knead and make six equal sized balls. Line a baking tray with aluminium foil,grease with olive oil and arrange the rolled balls with enough spacing between them. Brush with olive oil

Meanwhile roll the stuffing after cooling down completely.The stuffing should be around half the size as we roll the buns. After 10 minutes or so the rolled bun dough, would have raised again ( may be I can say little) . Take each bun and make a dent in the middle.

Keep the rolled stuffing inside and pinch all the end towards centre to cover the stuffing.

Roll in to smooth bun. Repeat for every bun. Arrange them in the lined baking tray. Keep the pinched/ joined side down.Brush them well with olive oil.

Preheat the oven for 190°C. When the preheat is finished,by now the buns would have raised too(refer the picture below). Brush generously with milk. Bake for 17- 20 mins or until the top crust turns golden brown in colour. (Mine took exactly 19 mins) Smells heavenly!!
Notes:
You can use the stuffing of your choice,use your imagination and adjust according to your taste!
I have measure everything properly and tried my best to give the exact measurement.Just adjust the water quantity alone if you feel the dough is very stiff.
The dough should be soft and pliable,not stiff.
The Yeast is very important factor,let it be active and fresh,otherwise the whole recipe is flop. I have shown the pictures how the dough is doubled,so if yours is not raising properly then you can know that your yeast is not active.
After finished baking,brush them with butter or oil and enjoy with tea/evening snack! This would be a great snack for kids after they come back from school!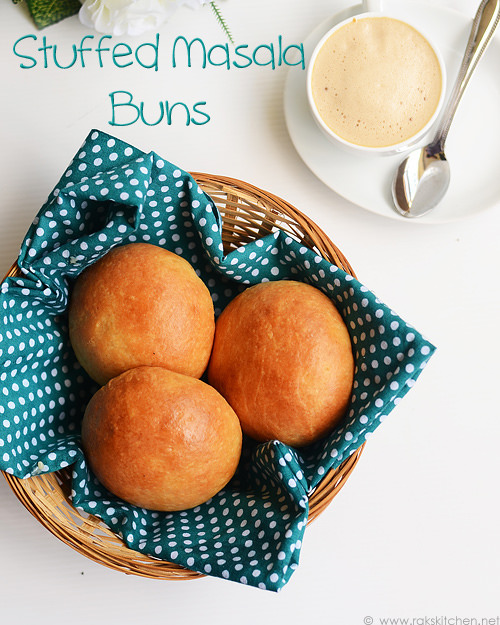 Please refer to my fellow blogger's stuffed buns too: => Lataji's Healthy version of stuffed buns.