I always love different kind of tangy, spicy kuzhambu recipes. Like my
Poondu Kuzhambu
,
Brinjal pepper kuzhambu
,
karuveppilai kuzhambu
… Sukku kuzhambu also I loved a lot. Its very appetising and good for us to include sukku – Dry ginger in our diet. I had some sukku powder passed to me by my FIL. It helps a lot for digestion. So when Raji told this recipe, I wanted to try it out immediately. So tried this and loved it a lot. The sukku smell is not over powdering in this kuzhambu, just very mild and very tasty. I have used sukku powder, but you can also use a piece of dry ginger itself if you have some.
Sukku kuzhambu recipe
Recipe Cuisine:
Indian
|
Recipe Category:
Lunch
Prep Time
:
15 mins
|
Cook time: 25 mins
|
Serves
:
4
Ingredients
Onion - 1 small
---
Garlic - 8 flakes
---
Tomato - 1 small
---
Tamarind - Small lemon size
---
Sambar powder - 1 & ½ tsp
---
Turmeric - 2 pinches
---
Salt - As needed
---
Curry leaves - 1 sprig
---
To grind
Coconut - 2 tblsp
---
Pepper - ½ tblsp
---
Sukku powder - ½ tsp
---
To temper
Sesame oil - 2 tblsp
---
Mustard - 1 tsp
---
Fenugreek seeds - ½ tsp
---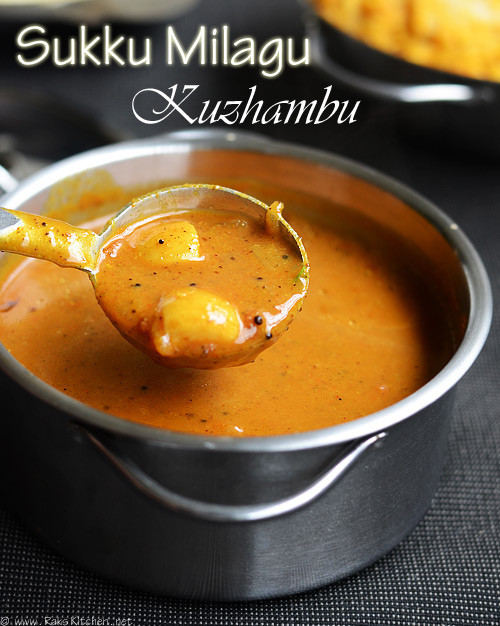 Method
Extract tamarind juice and dilute with water to make it 2 & ½ cups. Set aside. Grind coconut, pepper and sukku with little water until smooth.

Heat a kadai with oil and temper with mustard followed by fenugreek seeds. Add half of curry leaves. Add cubed onion and garlic. Fry until it turns slightly pinkish. Add chopped tomatoes and fry for a minute.

Mix the tamarind juice with ground mixture, sambar powder, turmeric and salt mean while. Add it to the kadai/ boiling vessel and bring to boil.

Simmer and boil for 10 minutes or until thick consistency reaches. Mix lastly with the curry leaves torn roughly.
Notes
After mixing tamarind juice with everything, just taste few drops to check if all the tastes are balanced.
Top with sesame oil when eating with rice.
Enjoy this appetising kuzhambu with any kootu as accompaniment. I love to eat it rice. But can also be eaten with idli dosa as well.