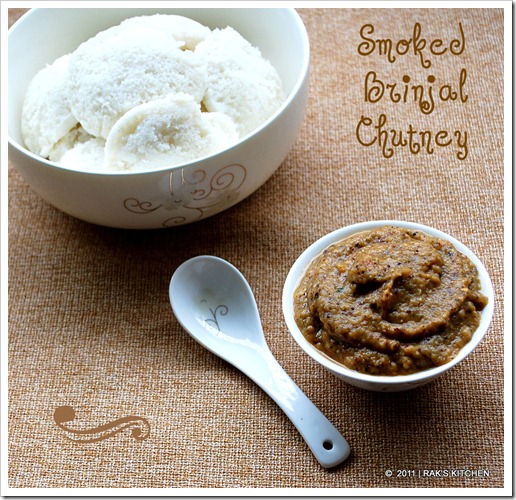 I love one of the chutney they give in 'Murugan Idli Shop'. Not sure what chutney is that, but once when we went there with my In-laws and asked my FIL any ideas about the chutney,he told its brinjal chutney.
I really love that flavour of mustard and coconut in that chutney. The only sole reason for me going to Murugan idli shop is that chutney,yummy!
Was so convinced that it is sutta kathrikkai chutney. But it is not, once when I asked an employee here in Singapore Murugan idli shop, they told it is vengaya pachadi.
It made sense since the color of the chutney is brown. As I mentioned, I could see coconut and mustard in it mainly which adds flavor.
I always find chance to try that chutney at home and recreate the taste.. I have tried only very few time and still trying.
I took a lovely, pretty looking aubergine (brinjals always look lovely and pretty for me😁) to try this chutney.
I tried smoking the brinjal directly in the stove and tried this chutney. Since I smoked it,the smoky smell was dominating this time than the mustard or coconut in the chutney.
So I thought next time I will try microwaving or boiling. Still, this smell was very unique and good too.
My hubby who doesn't like brinjal(he can eat if its not in its texture) like this very much as the brinjal is ground and only the smoky smell was dominating than the brinjal smell.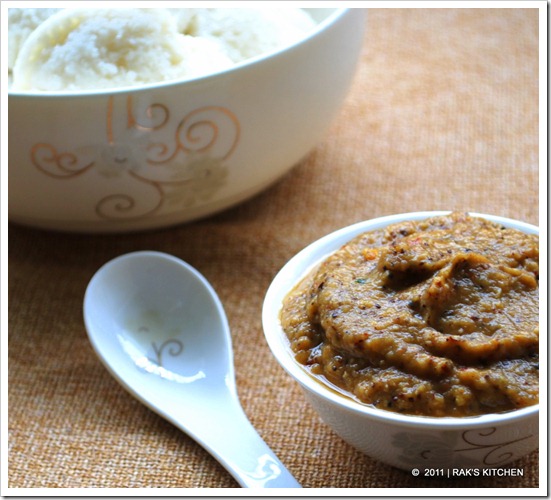 Sutta kathirikkai chutney recipe
Recipe Cuisine: Indian | Recipe Category: Side dish
Prep Time: 5 mins | Cook time: 10 mins | Serves: 4
Ingredients
Big round brinjal/ Aubergine - 1 no
Red chillies - 7 – 8 nos.
Tamarind - ½ tsp,tightly packed
Mustard (big variety) - ¾ tbsp
Coconut,scraped - 2 – 3 tbsp
Asafoetida - ⅛ tsp
Salt - As needed
Coconut oil - 2 tsp
Curry leaves - 1 sprig
Method
Brush/ apply oil over the washed brinjal evenly everywhere. Pierce a rod to the brinjal and roast it in direct flame everywhere evenly. You have to rotate the brinjal now and then for even roasting. Keep the flame in medium always.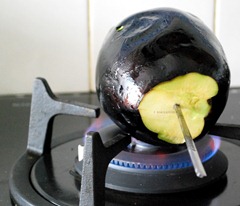 2. After the skin of the brinjal gets blackened and the brinjal gets cooked completely remove from fire and cool down.(the pierced rod will not hold the brinjal anymore after the brinjal gets cooked, so you can take it as reference point)
3. Peel off the skin,if you have roasted evenly and the brinjal is done cooking,then removing the skin will be very easy. If not cooked well,the skin will not come that so easy.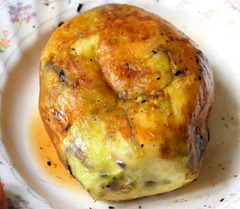 4. Roast mustard and red chillies until mustard splutters.Add the coconut and give it a stir till nice aroma comes.
5. First grind the red chillies and tamarind and then add brinjal,coconut,mustard,salt and just give it a spin. The mustard should be just ground in to one and two.Add required water while grinding.
6. Heat oil and season with curry leaves and asafoetida and mix well. Serves best with Idl or dosa.
Notes
I have just added what ever I saw/ thought that was in the chutney served by murugan idli shop. This will only taste good with idly dosa and may not be good with rice.
Do share your thoughts about the chutneys served in Murugan Idli shop….