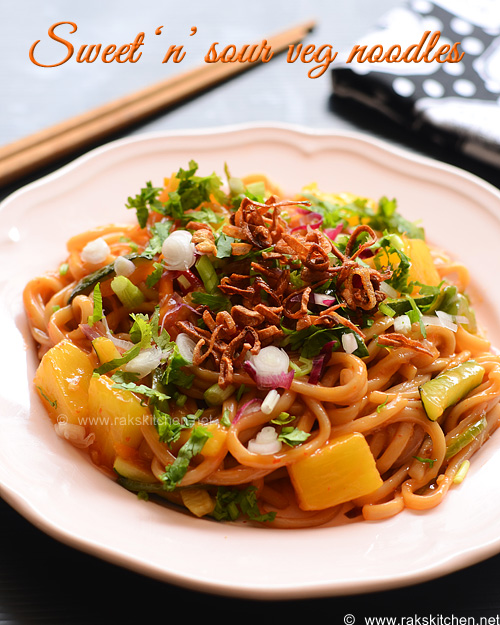 Vegetarian noodles with lots of vegetables, pineapple, birds eye chilli gives a spicy note to this dish along with vinegar and other sauces to give a sour taste. The moment I read the recipe in a magazine, I knew I am going to try as it was easy and sounded delicious too. It had my recent favorite veggie – zucchini. I always love noodles, in any form. Be it the instant noodles or
hakka noodles

,

schezwan noodles

,

stir fried noodles
, I just love it! This one is an addition to my list. As I have said earlier, I have not experimented with local food here in Singapore. But thought I should try this as it had no any different ingredients that I use. The original recipe asked to use Hokkien noodles, but I found this brown rice noodles in Fairprice and thought I could use it in this recipe.
How to make sweet and sour vegetable noodles
Sweet and sour vegetable noodles recipe
Recipe Cuisine:
Oriental
|
Recipe Category:
Lunch
Prep Time
:
15 minutes
|
Cook time: 15 mins
|
Serves
:
2
Ingredients
Rice noodles, thick variety – 200 gm
---
Zucchini – 1
---
Carrot – ½
---
Capsicum – ½
---
Onion – ½
---
Birds eye chilli – 2 or 3 (Optional)
---
Pineapple in syrup – ½ cup
---
Spring onion – 2
---
Small onion/ shallot – 5
---
Coriander leaves – 2 tbsp
---
Corn flour – ½ tbsp
---
Vinegar – 2 tbsp
---
Tomato sauce – ¼ cup
---
Soya sauce – ½ tbsp
---
Salt – a generous pinch
---
Peanut oil – 2 tbsp
---
Method
Bring enough water to boil and cook noodles as per the instructions given in the pack of the noodles. I used brown rice noodles. So took around 5 mins, but regular rice noodle should get cooked easily, so refer the package.

Cook noodles just right, take care not to over cook. Drain and let it get cooled. Reserve a tbsp of noodles cooked water to use later, when the noodles cools down and stuck to each other, you can use this water to separate the noodles.

Cut all the vegetables in to juliennes. Heat oil in a pan and add chilli, all the vegetables – carrot, zucchini, capsicum, onion. Cook for a minute or two in high flame and once done (yet crunchy) transfer to a plate.

Mix corn flour, vinegar, soya sauce, tomato sauce, syrup from the pineapple and salt. You can use a fork to mix.

Add cooked noodles and pineapple pieces to the pan. Add the mixed sauces and cook until the sauce boils, becomes thick and shiny.

Add the sautéed vegetables to this and cook for a minute.

Top this with crisp golden fried shallots, spring onion and coriander leaves. To get crispy shallots, slice it thinly and fry in 2 tbsp of oil in medium flame without burning it.
Notes
I used half of a 400 gm pineapple tin. You can reduce the pineapple used in the recipe if you do not like pinepapple.
Tinned pineapple are sweet and soaked in sugar syrup, so if you are using fresh, the pine apple might be less sweet and slightly sour too with more pineapple flavour.
You can use colourful capsicum for more colourful appealing look.
Spicy, juicy, sweet and sour vegetable noodles, serve hot!