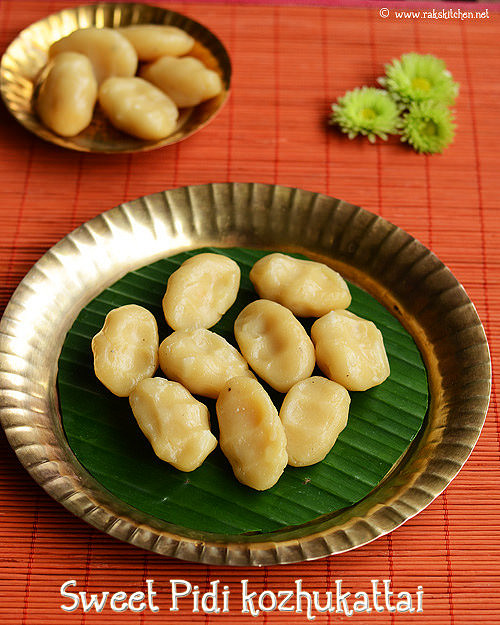 Easy sweet kozhukattai with rice flour. Learn how to make sweet pidi kozhukattai with this Step by step pictures recipe!

We make sweet pidi kozhukattai very often. Vj is a very big fan of this. It is easy to make when compared to the traditional kozhukattai and can be made in jiffy for evening snacks or even dinner. Mom makes this along with the easy salt kozhukattai version. I just go crazy eating without any counts. As I was not a big fan of jaggery/ sweet versions before, but mom will say I should finish both, I will sandwich both sweet and salt and eat. My MIL also makes, but sweet version alone. My MIL adds grated coconut, while mom adds coconut bits. I love both. We make this on special days like sangatahara chaturthi or any fridays like aadi velli or Chitra pournami too. But can be made as snack on regular days.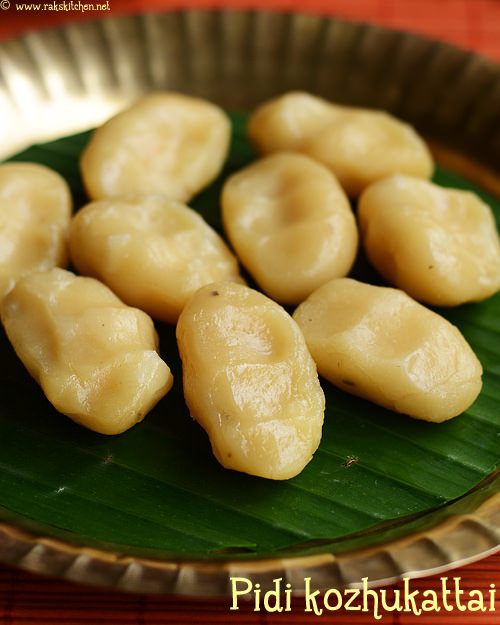 How to make sweet pidi kozhukattai video
Sweet pidi kozhukattai recipe
Recipe Cuisine:
Indian
|
Recipe Category:
Breakfast/ snack
Prep Time
:
15 mins
|
Cook time: 30 mins
|
Makes
:
16 mini kozhukattais
Easy sweet kozhukattai with rice flour. Learn how to make sweet pidi kozhukattai with this Step by step pictures recipe

Ingredients
Rice flour (Idiyappam flour works best) – ½ cup
---
Jaggery, powdered – ¼ cup + 2 tbsp
---
Water – 1 cup
---
Cardamom – 1
---
Chopped coconut – 2 tblsp
---
Sesame oil – 1 tsp
---
Salt – ¼ tsp
---
Method
In a heavy bottom pan or non stick pan, add water and jaggery. When jaggery is completely dissolved, filter if any impurities are there. I skipped as mine was pure. Add powdered cardamom, coconut bits to it. Bring to boil.

Simmer the flame.Add flour and while you keep stirring. Don't worry if it forms lumps, it will disappear as we mix. Everything will be turning quick, so make sure you are ready for that.

Cool it and when it is still warm, grease your hands and make a smooth dough out of it. Divide into equal sized balls.

Keep each ball in your hand and press it to bring an oblong shaped dumplings. Arrange in the steamer.Idli plate works fine, but grease before you arrange.

Steam cook for 10 to 12 minutes or until the kozhukattais turn shiny.
Notes
After the dough is ready, keep covered to avoid drying.
If making large quantities, cover the shaped kozhukattais too.
Important: If using store bought rice flour that is coarse or home made rice flour, water quantity may vary.
Grease hands to avoid sticking.
The key is to cook the flour while boiling itself. This gives softest kozhukattais.
If you use more jaggery than mentioned and less water, it wont get steamed properly how much ever time you cook it.
You can add ½ cup jaggery too, but since we are adding salt, this is fine for us.
Also do not let the jaggery for syrup stage as it will not let the flour cook and again it wont get cooked even after you steam for long time.
Hot or not, it will taste divinely! With coconut bits here and there, it adds nice texture to it.