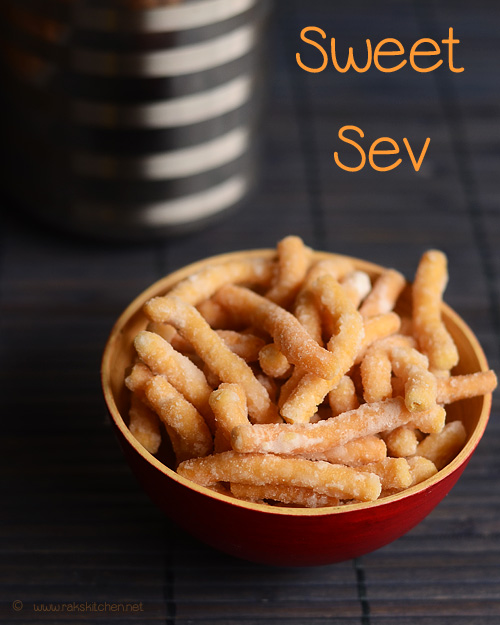 Sweet
sev
was the first one I made and planned to post for Diwali 2015. After sweet sev only I made sweet mixture and got tempted to post sweet mixture first. Then due to some reasons I did not post it and thought will post it last in my Diwali recipe posts. When I made it I really enjoyed making it as it is my all time favourite and was waiting to try and post. But when I keep a post in draft, the excitement is gone. I mostly make posts the same day I make and I am so used to it. So when I plan and make something in advance for my blog, this is what happens 😋.
Atleast now, I could make use of this post as I am spending more time with Aj and my in laws. Not that I can't posts, I can squeeze time and make posts, but I don't want to get mechanical about blogging.
I have tasted this snack in my childhood only very few times but I just love it. The flavours were really great and I could still remember it. Though I wanted to make it in a traditional way by rubbing in a seevakattai, I sadly don't own one and using ladle is really hard for me.
Sweet sev recipe
Recipe Cuisine:
Indian
|
Recipe Category:
Snack
Prep Time
:
15 mins
|
Cook time: 25 mins
|
Serves
:
4 cups
Ingredients

Chickpea flour/ Besan/ Kadalai mavu – 1 cup
---
Rice flour – 1/2 cup
---
Butter – 1 tbsp
---
Oil – 1 tsp
---
Salt – As needed
---
Oil – for deep frying
---
For sugar syrup
Sugar – 1 cup
---
Water – 1/2 cup
---
Cardamom – 1, powdered
---
Method
In a mixing bowl, first mix besan, rice flour, oil (hot), butter, salt well. Add required water to make a non sticky and soft dough.

In a murukku press, fix a plate with bigger hole and fill it with the prepared dough.

Squeeze in hot oil in big rounds. Flip and cook in medium flame after a minute.Once the shhh… sound ceases and the sev is crisp, drain in paper towel.

Repeat to finish all the dough and break it roughly to finder length pieces.

Meanwhile, prepare sugar syrup with sugar, water and cardamom. The syrup should be thick and hard ball consistency. Little after soft ball consistency also works, but may not stay crisp.

Once syrup is ready, add the broken sev and mix gently. As the syrup gets cooled, it will bloom, so keep tossing.
Notes
I thought making in half oil and half vanaspati or ghee would have enhanced the taste. Still this was great too.
Make sure the sugar syrup reaches hard ball consistency. Hard ball consistency – Keep a small bowl with water. Add few drops of the syrup to it. You should be able to gather with your hands and roll. And if you drop the rolled syrup ball, it should fall like a stone. Or if you pour few drops and let it cool, you should be able to break it crisp.
The flavour comes out best the next day onwards 😊. Great tea time snack!