Tamil New year recipes, menu ideas as well as why we celebrate Tamil puthandu. In addition, in this post sharing How I celebrate the festival in my place.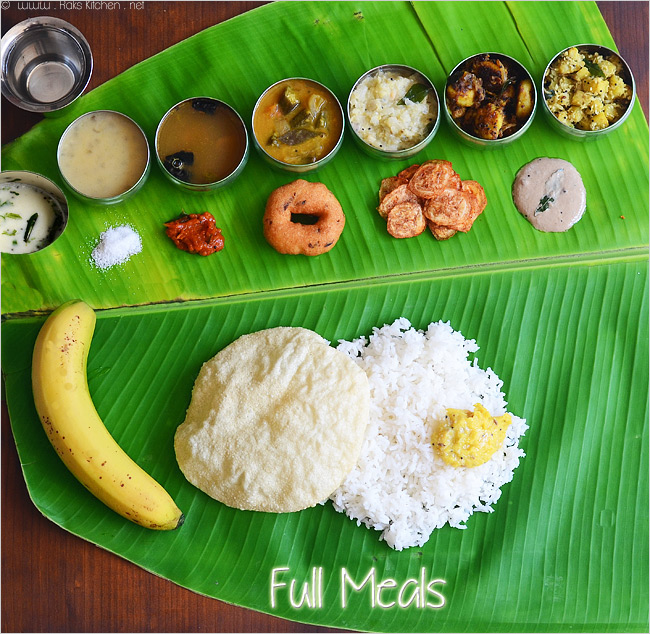 Check out my homemade sambar podi recipe in my website, especially for using in all the lunch preparations.
Jump to:
Wishes
Wishing you all a very Happy and prosperous New Year!
Tamil New Year Wishes in Tamil
அனைவருக்கும் இனிய தமிழ் புத்தாண்டு நல் வாழ்த்துக்கள்
Tamil new year lunch ideas
For the festival, you can prepare two types of lunch such as
Elaborate south Indian full meals
Variety rice lunch menu
Refer my post to get an idea on how to plan a full meal and prepare.
In fact, for festivals, as we offer to God, we make it as a no onion no garlic menu.
But, it is subjective to the family's practice and convenience.
To illustrate how to prepare variety rice lunch, check out my post with video below.
In the above case, try to add vegetables in side dish such as avial or mixed veg kootu.
📋 List of Tamil new year recipes 2023
For festivals, it's always ulundu vadai at our home. It's easy to prepare, as well as we can make it satvik, No onion no garlic version.
 Medhu vadai recipe – Ulunthu vadai – ulundu vadai- medu vada – with VIDEO and step by step pictures, tips and tricks to make perfect shape.
15
mins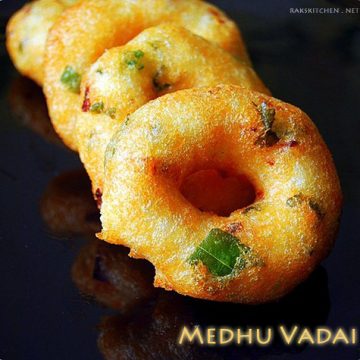 Many beginners in cooking can't shape vadai, With this in mind, sharing this bonda recipe!
Ulundu bonda recipe, mysore bonda made with urad dal as main ingredient. Chopped coconut and whole pepper take the taste to a whole new level. perfect snack recipe for evening with coffee or tea.
15
mins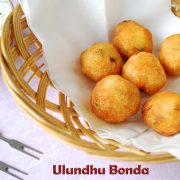 Finally sharing my other vadai recipes for Tamil new year:
Similarly, it's always a jaggery based traditional payasam for such festivals. Check out my favorite one such recipe below.
Arisi paruppu payasam is one staple recipe made during festive occasions (with coconut milk) by my mom and also every friday a simpler version of this.
20
mins
This is kind of must recipe that is made specifically on Tamil new year. In this dish, you have all the 6 tastes, so indicates we should face life as it comes.
Learn how to make mango pachadi with full video, step by step pictures. Neem flowers are added to the mango pachadi when made on Tamil new year's day.
15
mins
Check out the exclusive neem flower rasam recipe I learnt from my mom and it's so easy and tasty. In fact you can make any of your favorite rasam and top it with roasted neem flower, packed with flavors.
Neem flower rasam / Veppam poo rasam is one which I used to hate. Mom always insists to add some bitter taste in diet at least once in a week or month.
15
mins
5. Neer mor
Since Tamil New year falls on the month of April, it's always summer during that time. So we also include neer mor and panagam in our offering to God.
Neer mor is spiced buttermilk, south Indian style, perfect as summer drink to beat the heat and keep yourself hydrated in natural way!
2
mins
Panakam recipe - How to prepare a perfect divine smelling and tasting Panagam with quick video, step by step pictures.
0
mins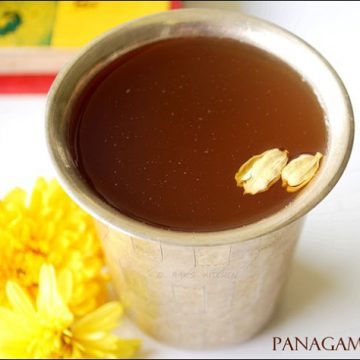 🌸 Neem flower
Neem flower (Fresh preferred – or use dried) can be tempered in mango pachadi or include in rasam too.
The idea is to include all the taste in one dish, on the first day of the New Year thus preparing yourself to face the year equally irrespective of situations.
Other options (Consult elders at home about the veggies you can add for offering God)
🪔 About Tamil New Year
Tamil new year every year falls on April 14th. This is an Indian (south Indian) festival. It marks the first day in Tamil / Hindu calendar in the month of Chithirai.
It is also known as Tamil varuda pirappu / varusha pirappu or Chithirai thirunal. Elders in home use the new Tamil panjangam from this day (Tamil calendar).
We keep the New panjangam (with manjal kungumam on four corners) too in our prayer while offering food to God.
This panjangam is used for determining the auspicious time for festival celebrations. We wake up early, take head bath and pray God.
Also decorate our house entrances with maakolam (Check out my mom's kolams to learn) (Tamil New Year Kolam) make a feast at home.
Some people also visit temples. Many temples celebrate this whole month as "Chithirai thiruvizha".
Just like English calendar new year, we believe this day too as auspicious day for new and prosperous beginnings.
🎉 Celebration
This is the first day of Tamil new year, in the Tamil calendar and it's more important for us Tamil Hindus.
Whichever country we are living in, we make sure to celebrate in our house holds the same way our mom and mom in law do.
We want our kids too to know about these traditions and carry these traditions to the next generation.
We collect neem flowers throughout the year from our backyard neem tree, dry it in shade and preserve it for the whole year.
If fresh flowers are available, we use that new flowers for tamil new year day cooking.
As a kid I never used to like the neem flower toppings in rasam and pachadi.
I used to take out all the neem flowers before eating and argue with my mom to not to add in those.
My parents and grandparents used to explain me patiently about the importance of including all the tastes.
They used to say it is healthy too.  But these days, I am craving for those as that bitterness is also a taste and one cannot explain the flavour that it passes to the dishes it is added to.
Our food
We prepare a full meals feast which has 2 types of pachadi, 2 types of vegetable side dishes, sambar, rasam, payasam, vadai and end with buttermilk.
We always include raw mango and neem flowers in the menu. Rasam is made with neem flowers.
And mango pachadi is a must, which is made with jaggery, raw mango and tempered with neem flowers – to include all tastes sweet, sour, spice, salt and bitterness.
Meaning we should be prepared to face all moments in life and treat them equally.
Since this festival falls in summer, we make neer mor and panakam as well. (All links above under 'Recipes' heading)
How our elders have made the festival menu according to the seasons and things available that is also good for our health is quite astonishing!
🥭 My favorite part
Being a foodie I love the special dishes prepared on that day – Mango pachadi and neem flower rasam the best. I like vadai payasam too.
Browse more recipes :
Pachadi recipes
Depending on you family size and the time, keep the menu simple and stress free for the festival.
Check out this Ugadhi pachadi recipe too.