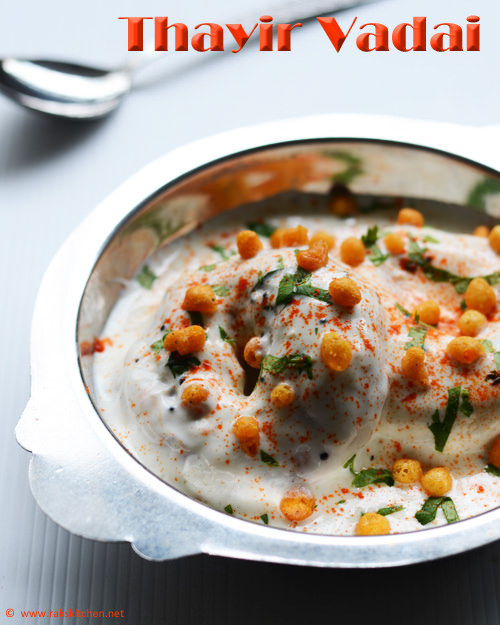 This is very simple and basic recipe, I have made it quite a few times when I had guests at home. But never posted and had long time due to post this. I wanted to garnish with kara boondi, so it too so long for me to both make this south Indian curd vada and have the kara boondi in stock. I do not order curd vadai at restaurants as once I had bad experience eating sourest curd vadai. So after that never thought of eating at restaurants, but many times made it at home. Once my uncle got this when he came home last year when we went to chennai. It was very delicious when I tasted one. It was not sour and the curd was smooth and rich. Don't know from where he got. After that I am making only now and today had one heartily
. So when you want to make curd vadai at home, make sure you use fresh not sour curd for best results. I have posted north Indian version
Dahi vada
, I love that too, but both are different in taste, but I like both versions.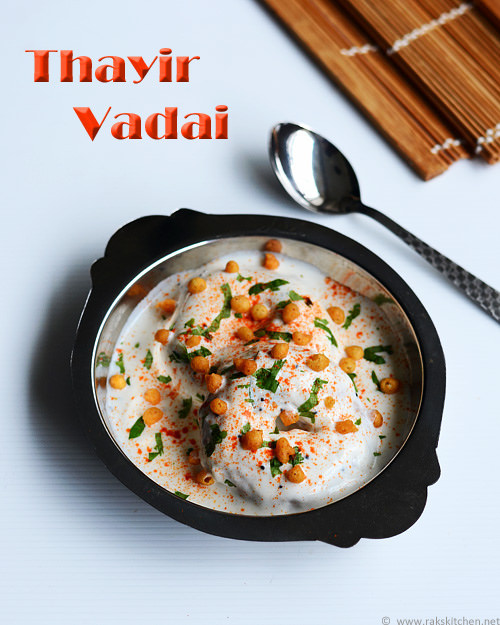 Thayir vadai recipe
Recipe Cuisine:
Indian
|
Recipe Category:
Snack
Prep Time
:
3 hrs mins
|
Cook time: 55 mins
|
Makes
:
8
Ingredients
Urad dal – white, whole – ½ cup, heaped
---
green chilli – 2V
---
Asafoetida – A pinch
---
Ginger – A small piece
---
Coriander leaves, chopped – 1 tblsp
---
Salt – As needed
---
For curd mixture
Curd – 1 & ½ cup
---
Milk – ½ cup
---
Salt – As needed
---
To temper
Oil – 1 tsp
---
Mustard – ¾ tsp
---
Asafoetida – A pinch
---
Curry leaves – 1 sprig
---
For garnish
Red chilli powder – ½ tsp
---
Kara boondi – As needed
---
Chopped coriander leaves – 2 tblsp
---
Method:
Soak urad dal for 2 hours. Then keep it refrigerated for an hour. This helps in giving fluffy stiff batter while we grind in mixie. Drain water and grind it with ginger, green chillies adding ice cold water little. The batter will loosen when we add salt later, so add water so very carefully less.

The batter should be smooth and thick. Add coriander, curry leaves and salt and mix well. Keep refrigerated until use. Keeping refrigerated also keeps the batter stiff and thick helping to shape the vadai perfect.

Heat oil for deep frying. Wet your hands and make shape of vada in your hands or in your convenient way of making vada shape and drop in oil carefully. Fry 3-4 vadais at a time depending on your kadai and oil size. Cook both sides in medium flame until golden.

Drain in paper towels. Soak vadai in hot water. Make sure water is just hot, not boiling water. Adding hot vadai in hot boiling water makes it loose it shape and not looks good. It may become too soft. So drain and cool the vadais, then add in hot water. Let it soak for atleast 15 mins.

Meanwhile prepare curd – beat curd and milk with salt until smooth.

Temper with the items given under 'to temper' table and mix.

Drain water from the soaked vadai and slightly squeeze without changing the shape. Pour the curd mixture on top of it and let it get soaked.
Notes
You can use left over vadais for this.
If your vadai is soft and airy, then your curd vadai also will absorb everything well, but it should not be too soft too, otherwise, it wont look good. Slightly stiff vadais works best.
Refer my medhu vadai post for more tips and tricks for making vadai.
Use boiled room temperature milk if its not homogenized pasteurized milk. Otherwise can use as such.
When you add curd to soaked vadai, make sure its not too hot.
At the time of serving, garnish with coriander leaves, red chilli powder and kara boondi. You can add grated carrots as well.