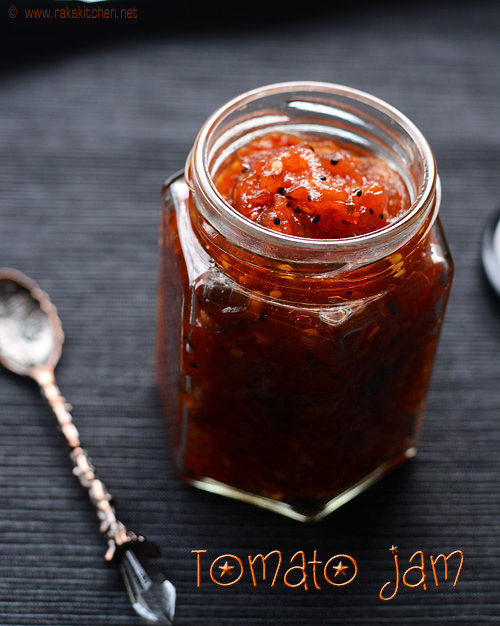 This tomato jam recipe is Indian style, perfect for travel. Goes well with chapati,
idli
, dosa, parathas too. Mom used to make this very often in my childhood days. I used to like it, but never realised how tasty it is. But after marriage, whenever I remember it, I will tell myself I should try it out once. But never happened. Now since mom is with me, I could ask her and make this tomato jam and I was so happy when I finished making and tasted it with phulka. This should be very very useful when we travel and break our heads, what to pack as side dish. This keeps good alteast for a week. So here's the simple recipe for tomato jam, desi style. Even bachelors can do this as no grinding part or fancy items in this.
Tomato jam recipe
Recipe Cuisine:
Indian
|
Recipe Category:
Condiments
Prep Time
:
10 mins
|
Cook time: 20 mins
|
Makes
:
½ cup
Ingredients
To temper
Oil – 1 tbsp
---
Mustard – ½ tsp
---
Urad dal – 1 tsp
---
Method
Finely chop tomatoes. Chop chilli too in circles. In a non stick pan, heat oil and temper with mustard and urad dal. Add green chillies and give it a fry. Add the chopped tomatoes and salt.
Alternate method : For eliminating the skin, boil enough water in a large pot and add the tomatoes (whole) to it. Wait for 20 – 30 sec, take it out and peel the skin off. Crush the tomatoes or you can even chop it.

Let it ooze out water and add sugar.

Mix well. Cook in high flame until water evaporates.

Once thick, put in medium flame and continue stirring until the mixture turns glossy without any water. It will turn deep red in colour.
Notes
My chopped tomatoes measured 2 & ½ cups. You can use this as guidance.
Salt should be added to balance the spice, sour and sweetness in this jam.
Adjust green chilli according to the tanginess of the tomatoes and the spice level of the chilli.
Use clean spoons and no moisture should be exposed to the jam for longer shelf life. But in fridge it will keep good upto 2 weeks.
Since we chop finely, the skin must not trouble, but if in case, you are skeptical, you can use the alternate method.
Cool down and store in an air tight container. Keeps good for 4 days or upto a week, if handled properly and depending on the climate in your part of world.