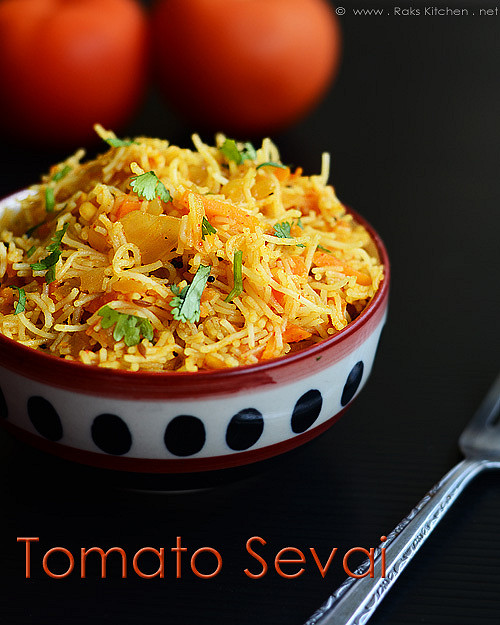 Tomato sevai is my MIL's staple recipe. But she makes tomato idiyappam version. I think there is a difference between idiyappam and sevai. I always make it as idiyappam – with rice flour. Mostly store bought idiyappam flour. My karaikudi mami gives a ready made idiyappam flour from her place when ever she visits us. It gives a great idiyappam just like making using fresh homemade rice flour. Though there are many brands this idiyappam flour is the best I have tasted so far. Here in SG, I buy BABA's brand and I make use of the most in this world I think😉. Yeah I can say I found it to use a idiyappam flour for making murukku, kozhukattai other than making idiyappam. You can see I have used it in
potato murukku
,
thenkuzhal murukku
,
magizhampoo thenkuzhal
,
ribbon pakoda
,
kara sev
etc.; and in
kozhukattais
. Yeah its very useful and gives me the best results. I hope many got benefited by this tip😊. Though I am not sure how authentic it is to use this for the above recipes, sure its a great help for us to make things easy.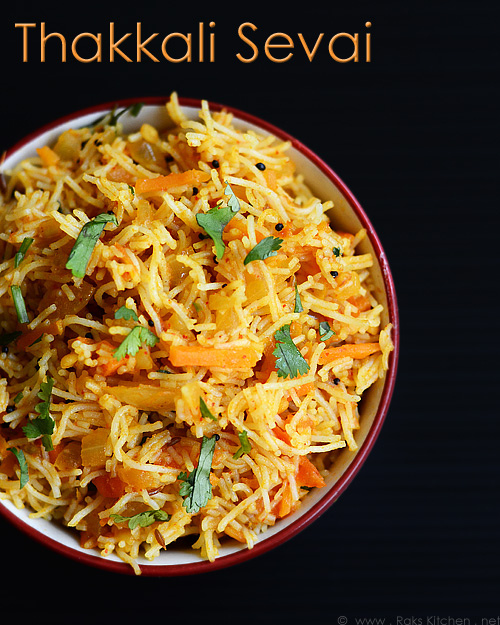 My mom used to make the sevai version, she has that special press for making it, but we used to help her. 'we' means we all! Yes – me, my bro and my dad too. My mom makes the rice idli and passes it to us, and my dad will press it(turn/screw) to make the sevai. Me and my bro will hold the three legs with our tiny hands to hold the press in the place 😉. My grand ma will help in mixing the sevai varieties. So we share the work. So now you know the 'we' means real 'we'! Since its a big family, it was always like that to share the works. especially these kind of things were there is a need of lots of hands to help. And she makes a whole lot of varieties like one with jaggery and coconut syrup, lemon sevai or tamarind sevai, paruppu sevai (check out the recipes of tamarind idiyappam and paruppu idiyappam). To make these for dinner for the whole family of 6, sure she needs help right? 🙂. My MIL makes idiyappam version and her idiyappam varieties are so different and easy. She uses just sugar and coconut for sweet version, lemon idiyappam, this tomato idiyappam and milagu idiyappam. She makes for breakfast and so keeps it simple and easy. When I got married, I used to miss my moms sevai varieties a lot. But now I am used to these idiyappam varieties my MIL makes too. And after so many years, I am making this tomato sevai and found that I am loving this too these days. I tried my hands on instant sevai for the first time in my life. I have never tried any instant versions so far as I am very much comfortable in making my own idiyappam in a jiffy with store bought flour. But tempted to try this sevai after tasting a delicious coconut sevai in Vidhya's house at her Golu. So got a pack(concord) to try it. You can also try the same with idiyappam too.
Tomato sevai/ Thakkali sevai recipe
Recipe Cuisine:
Indian
|
Recipe Category:
Breakfast
Prep Time
:
15 mins
|
Cook time: 20 mins
|
Serves
:
2
Ingredients
Please refer here to see how to prepare plain idiyappam with store bought flour
Cooked sevai / Idiyappam – 2 cups
---
Onion, big – 1
---
Tomato – 2
---
Red chilli powder/ sambar powder – 1 tsp
---
Green chillies (optional) – 2
---
Turmeric – 1/8 tsp
---
Carrot, finely chopped – 3 tblsp
---
Salt – As needed
---
Chopped coriander leaves – 2 tblsp
---
To temper
Oil/ ghee – 2 tsp
---
Mustard – 1 tsp
---
Urad dal – 1 tsp
---
Channa dal(optional) – 2 tsp
---
Jeera/ cumin seeds – 1 & 1/2 tsp
---
Curry leaves – 1 sprig
---
Method
Prepare idiyappam as mentioned in my old post if using idiyappam. Or prepare the sevai as per the package instructions. Chop onion, tomato finely, carrots very finely and slit green chillies. Temper with the items given under 'To temper' table in order. Fry onion till transparent, add the carrots, fry for a minute.

Add chopped tomatoes, sambar powder/ red chilli powder, turmeric and salt.Mix well and cook until mushy. Add the chopped coriander leaves. Switch off the flame.

Add cooked sevai and mix well. Check for salt, add ghee or sesame oil to top it. Give 2 minutes standing time before serving.
Notes
You can add Garam masala powder if you like that smell. We dont like so I dont add. Also chopped garlic can be added along with onions.
Enjoy this tangy spicy sevai for breakfast to make your breakfast special.