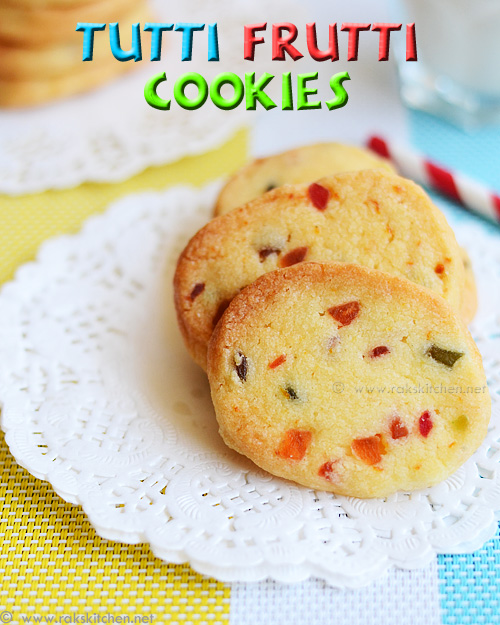 Eggless tutti frutti cookies with the colorful tutti frutti in it, which looks like gem stones beautifully in the cookies. Not only it looks appealing, this one tasted also great. Aj loved it a lot. So this is a perfect snack, be it back from school snack or inside their snack box. I got a small box of tutti frutti in Singapore, which usually we don't get. This is the second time I am buying in Mustafa. I got it during Christmas and I had to use it up as it will expire soon. I finished half the tutti frutti adding in Maida cake when I made for my MIL for India trip. I wanted to try this tutti frutti cookies for sure this time, as it was my long time wish to try after tutti frutti cake. I saw many bloggers posting, but I could not get my kind of recipe. Saw
this recipe
and adapted to make this tutti frutti cookies. I had a plan to make my sugar cookies as tutti frutti, but this recipe excited me as it had the orange flavor in it. I thought using orange zest is a great idea in cookies, especially I thought tutti frutti and orange flavor will go with each other well. And it really worked out, both me and Aj loved it. I am always a big fan of orange in biscuits (I love the IKEA orange thins, sadly which I could not find it anymore here) and also orange flavored chocolates. So this is a treat to me. Do try this out for your kids and let me know!
How to make eggless tutti frutti cookies full video
Tutti frutti cookies recipe
Recipe Cuisine:
Indian
|
Recipe Category:
Snack
Prep Time
:
1 Hr
|
Cook time: 15 mins
|
Makes
:
20
Ingredients
All purpose flour – 1 cup
---
Butter – ½ cup
---
Sugar – ¼ cup + 2 tbsp
---
Tutti frutti – ¼ cup
---
Baking powder – ⅛ tsp
---
Orange zest – 2 tsp
---
Vanilla – ¾ tsp
---
Salt – a pinch
---
Method
In a mixing bowl, beat butter (soft at room temperature) until smooth. I used my hand blender, but you can just use the whisk and beat manually. Powder the sugar and add to the butter.

Beat until creamy. Add orange zest, vanilla, salt and mix well.

Add the flour sieved with baking powder. Mix well. (If the mixture is too gooey, add 1 or 2 tablespoon flour, Just in case) It should be a non sticky dough which holds the shape.

Add tutti frutti lastly and mix. Do not over mix at any point.

Roll the dough to a log. Cling wrap it and keep refrigerated atleast for an hour.

Unwrap the cling wrap, slice the log, not too thin, not too thick.

Transfer the sliced cookiesto a baking tray lined with baking sheet. Leave 1 inch space between each cookie as it would spread. Pre heat oven at 180 deg C and bake for 15 minutes or until the edges of the cookies starts turning golden. Once done, the cookie may be soft, but as it cools down completely, it becomes crispy.
Notes
My dough was slightly gooey in step 3, so added a tablespoon of flour. But max 2 tablespoon is what you can add to adjust the consistency, otherwise it would affect the texture of cookie.
Before you take it out and slice, pre heat the oven.
Give enough spacing as mentioned in the last step. I did not do that, so my cookies got stuck to each other.
Keep an eye after 12 mins, as the baking time may vary with oven. Do not open the oven door before 12 mins.
Once the baking time is over, the cookie may not be crispy, but no need to worry, it will get perfectly crispy after it cools down.
Cool down completely and store in airtight jars. Serve as a snack with glass of milk. Or pack it for the kids snack box!