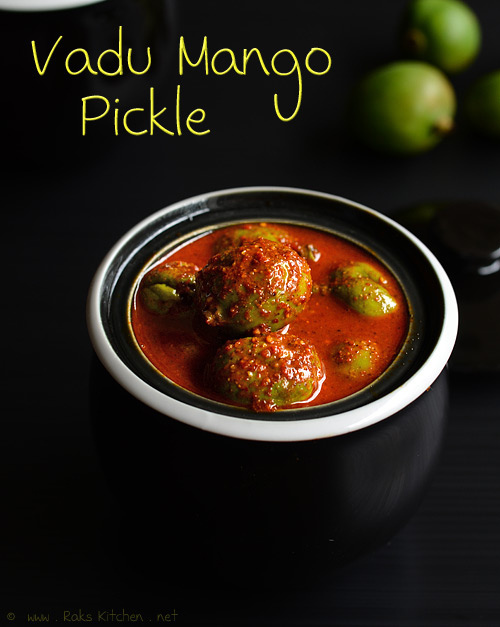 Maavadu / vadu manga/ vadu mago is nothing but baby mangoes. A specific variety of this tender mango is made pickle, the ever popular "vadu mango pickle". Mom makes more like the
neer nellikai
, which is also my most favourite. I like the water more than the nellikai/mango. It tastes great with more sadam/ thayir sadam. I can live with it! But this way of authentic maa vadu pickle I learnt from my MIL. She has this recipe in her handwritten cookbook, which she shared me over the phone and I tried it successfully for the first ever time in my life. And every day when I open the jar of this pickle the whole space is full of the pleasant mango flavour along with the spices! Wow! Too much!😀.
I clicked these pictures just after one day I prepared, coz the baby mangoes where photogenic and actually I was too much enthusiastic to click it, cant wait until it gets soaked. How ever the picture below the ingredients table has been shot only after one week, just to show the looks of the shrunken, well soaked maavadu. Anybody remembering any tamil song now as you read this post?😉
Vadu mango pickle recipe
Recipe Cuisine:
Indian
|
Recipe Category:
Lunch (pickle)
Prep Time
:
1 Week soaking
|
Cook time: 15 mins
|
Makes
:
3 cups
Ingredients
Vadu manga*/ maavadu/baby mangoes – 2 cups heaped
---
Salt (rock salt preferred) – As needed
---
Castor oil or sesame oil – 2 tbslp
---
*The baby mangoes should be round variety
To Roast and grind
Red chillies (Long variety) – 20
---
Vendhayam (fenugreek seeds/ methi seeds) – ½ tsp
---
Mustard – ¾ tsp
---
A small piece of turmeric
Or turmeric powder – ¼ tsp
---
Asafoetida – ¼ tsp
---
Method
Choose fresh, roughly same size of baby mangoes/ vadu manga. Wash properly and remove the stalks if any. Pat dry completely in a clean kitchen towel and dry in the shade for making sure it has no water. In a porcelain bowl or glass bottle, big enough to hold the manoges, transfer the mangoes and pour oil and mix well so that the oil coats all the mangoes completely.
Meanwhile, roast the items given under 'To roast and grind table'. Add asafoetida powder towards the end. (I used the solid ones). No need to roast the turmeric. Roast until the mustard starts cracking. Do it in medium flame. Cool down and powder everything along with salt.
Then add ¼ cup boiled & COOLED water and grind it to a paste. Add it to the greased baby mangoes.
Mix well with a spoon or if the jar has lid, shake it well so that the spicy sauce coats every mango.Toss 3-4 times a day so that it gets soaked evenly. For first few days, the salt makes the mango ooze out water and the mangoes will shrink little by little and the water quantity also increases. The below picture shows 2 days old soaked mangoes. But it takes atleast 1 week to get completely shrunken.
Notes
As always told for pickles, always use clean spoons while handling the pickle.
Make sure no water is there in the mangoes for long shelf life. This pickle can stay good for months even when kept outside.
Use only peengan or glass bottles as others may not withstand the salt content in the pickle.
Using kal uppu / rock salt is recommended.
Do not forget to toss the mangoes everyday atleast 2-3 times for a week.
By end of a week, the mangoes will get smaller and the spicy water will cover the mangoes – the way it is supposed to be.
Serve with sambar/ rasam sadam ( I don't do this, but have heard it will be good) or classically with the thayir sadam😍. Spicy and flavourful, simply a treat every single time you eat/lick it!