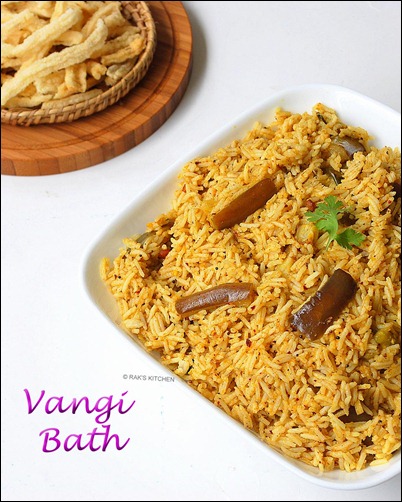 This is my favourite,because I am a big fan of brinjal. I became a great fan of this vangibath,when I was staying in hostel and enjoyed this one in our hostel mess. I could not recreate the same taste,but definitely a very close taste to that iyer mess in SRC Trichy. Most of the Hostel mess will be a night mare,only we had almost a good time. Especially after noon lunch will be as good as home food! We had no problem….This vangibath will be once in a month…but it will be so flavour ful!!!
You too can try this,I assure it will come out nice:) I am glad to send this to Srivalli's Rice mela Event!
Vaangi Bath/ bhaat recipe
Recipe Cuisine:
Indian
|
Recipe Category:
Lunch
Prep Time
:
30 mins rice soaking time + 5 mins
|
Cook time: 30 mins
|
Serves
:
3
Ingredients
Brinjal – 10
---
Rice (Long grain/basmati) – 1 cup
---
Tamarind – 1 tsp tightly packed
---
Turmeric – 1/4 tsp
---
Green chillies – 2
---
Curry leaves – 1 sprig
---
Ghee – 1 tblsp
---
Salt – As needed
---
Ginger – 1 inch piece
---
To Roast and grind
Coconut, grated – 2 tblsp
---
channa dal – 1 tblsp
---
Urad dal – 1 tsp
---
Coriander seeds – 1 tsp
---
pepper corns – 7
---
Red chilli – 3
---
To temper
Oil – 1 tblsp
---
Cinnamon – 1 inch piece
---
Cloves – 2
---
Elachi – 2
---
Bay leaves – 1 or 2
---
Mustard – 1 tsp
---
Urad dal – 1 tsp
---
Channa dal – 1 tsp
---
Method:
Soak rice for half an hour,cook it with salt for 3 whistles in medium flame after first whistle.( I used 1: 1& 1/2 , rice : water ratio) You can cook the rice with the whole garam masalas-cloves,elachi,cinnamon,bay leaves too. Cool the cooked rice and keep aside.
Roast all the ingredients with few drops of oil under "To roast and grind" table to golden brown/nice aroma rises….except coconut…coconut can be roasted very slightly, so add it lastly.

Cool it and powder it and keep aside.Cut brinjal into finger length strips and keep it immersed in water till use,cut ginger into thin strips and slit the green chillies.Extract tamarind juice from the tamarind.
Heat the kadai with a tsp oil and add the seasoning items and roast it nicely. After done add ginger,green chillies and curry leaves.Add brinjals with turmeric and fry till soft.

Add the tamarind juice,required salt for brinjal and bring it to boil. Add the ground masala and simmer for 3 minutes or till brinjal gets cooked.

Take care that brinjal doesn't gets mashed. At the end the masala will become a thick paste and shiny.
Notes:
You can chop the brinjals finely if you like it that way…
Check for salt Add this to rice and mix carefully. You can garnish with coriander leaves if u want.Serve hot with raita of your choice. I had with amma's vadam