I am not a coffee/tea person and always order some cold drinks if I go to coffee shops. And I got addicted to this drink when we went to Phuket once. A restaurant inside the resort where we stayed had this in their menu and me and Aj ordered this thrice and shared. It was the best milkshake I have ever had. Tasted like heaven. Then I started making this at home with the sundae syrup, to finish the ice cream tub. I rarely make though to watch my weight.
Vj doesn't like cold milkshakes except Sharjah shake. I have to soon post that too here. Its one of my favourite too. For this milk shake, its very flexible, you can increase or decrease the ice cream quantity,use low fat options and you may also make your own caramel if you want. Refer
this post
to see how to make caramel syrup. And be creative in choosing the sundae syrup too for different flavours, like strawberry, butterscotch, chocolate… Kids would love it and it will be filling for them if you give after their un finished breakfast.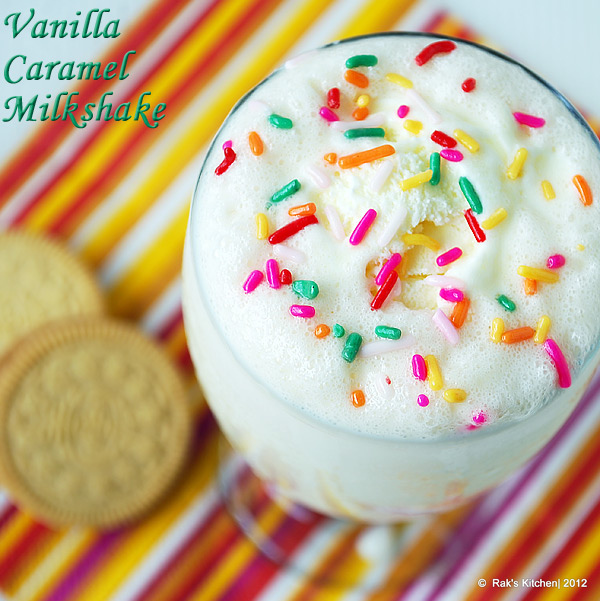 Vanilla caramel milkshake recipe
Recipe Cuisine:
Continental
|
Recipe Category:
Drink
Prep Time
:
5 mins
|
Cook time: 0 mins
|
Makes
:
1
Ingredients
Milk – 1 cup
---
Caramel syrup – 3 tblsp
---
Vanilla ice cream – 2 scoops
---
Method
Place everything in the blender, and whip until everything blends well. Serve immediately.
Notes
Adjust the caramel syrup and ice cream to balance the sweetness of the milkshake and depending on which flavour you want more.
Pour into the serving glass and you can top with your favourite toppings like nuts or bit of the caramel syrup or even a scoop of ice cream.
I topped with the coloured sprinkles to make it colourful and I am sure your kid will also love it as its colourful and catchy to eyes.