I wanted to post vazhaithandu more kootu / banana stem mor kootu for long time, when ever I buy banana stem, I rather make poriyal than this kootu. But love this mor kootu a lot because it tastes like aviyal a little bit 🙂 And the procedure is also somewhat similar with similar ingredients. I found this cool way of removing the excess fiber in the cookbook I have, so tried it for the first time and surprised with the results. Its really cool and easy, so do try this way as I have mentioned in the post.
I am in Pune right now enjoying the break stay here and busy roaming around for shopping. Another two days here and then again back to busy marriage week at Chennai. Hoping to keep the blog alive with posts 🙂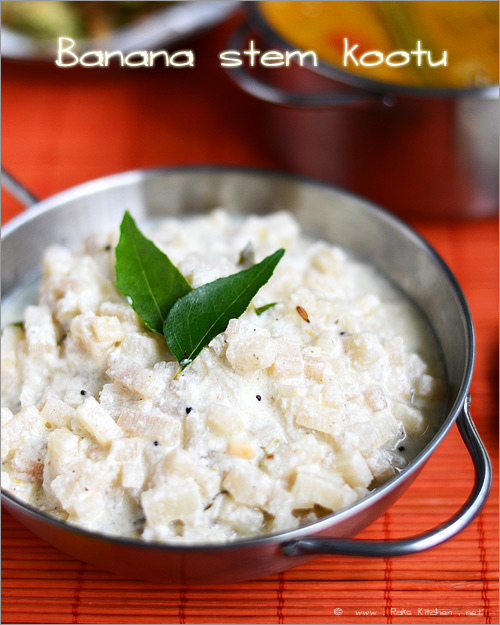 Vazhaithandu more kootu recipe
Recipe Cuisine:
Indian
|
Recipe Category:
Lunch side
Prep Time
:
20 mins
|
Cook time: 20 mins
|
Serves
:
4
Ingredients
Vazhaithandu – 1
---
Curd – 1/2 cup
---
Green chilli – 5
---
curry leaves – 1 sprig
---
Salt – As needed
---
To temper
Oil/ coconut oil – 1 tsp
---
Mustard – 1/2 tsp
---
Urad dal – 1 tsp
---
Curry leaves – 1 sprig
---
To Grind
Coconut – 1/2 cup
---
Jeera – 3/4 tsp
---
Green chilli – 4
---
Rice flour – 1tsp
---
Method
Remove the skin of the banana stem,which will look like a separate ring as shown in the pic.
Then cut into thin circles as shown in the picture. If you want you can remove the fiber part as you cut. Otherwise, you can also follow the next step. Chop finely as shown in the picture. Keep immersed in lemon squeezed water in a bowl until use.
Use a clean and lengthy toothpick, insert it into the chopped banana stem and run the toothpick in between your palm to and fro as we beat for making buttermilk from curd (using mathu). This way the excess fiber part can be removed and discarded.
Grind coconut, green chilli, jeera and rice flour with little water to a smooth paste.
Boil water and cook the banana stem with salt. Once done, add the ground coconut paste and mix well. Bring to boil and switch off the flame.

Mix well and add the curd (beat well). mix well and temper over the kootu with the items given under to temper table.
Notes
Soaking the chopped banana stem in sour butter milk or lemon with water will help preventing discoloration.
After adding curd, do not let the kootu boil.
Serve as accompaniment for rice, tastes best with tangy vathal kuzhambus mainly.