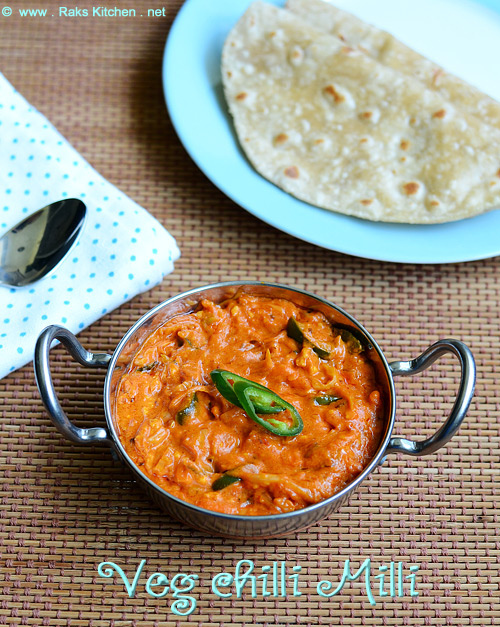 Veg chilli milli is our usual order when we visit Kailash Parbat. Vj loves this very much. Since he likes the dish very much I thought of attempting my version at home after tasting this twice there. Though I could not match the taste what we had at the restaurant, this sure is a finger licking side for
Roti
/
Naan
. Why not?, its a cashew based gravy so its slightly sweetish and delicious inspite of its name having 'chilli'. And also I like the vegetables in it which we usually do not include in our roti side dish recipes. This has become Aj's favourite too these days😀.
Veg chilli milli recipe
Recipe Cuisine:
Indian
|
Recipe Category:
Lunch/ Dinner
Prep Time
:
15 mins
|
Cook time: 20 mins
|
Serves
:
3
Ingredients
Cabbage, cut to thin stripes – ¾ cup
---
Carrot, small – 1
---
Capsicum, small – 1
---
Paneer, crumbled – 3-4 tblsp
---
Onion – 1
---
Tomato puree/ tomatoes(2) – ¼ cup
---
Garam masala powder – ½ tsp
---
Dhaniya powder optional – 1 tsp
---
Red chilli powder – ¾ tsp
---
Green chillies – 2-3
---
Poblano (big green chilli) – 1
---
Cashews – 12-14
---
Cream (nestle) – 2-3 tblsp
---
Kasoori methi – A pinch
---
Coriander leaves, chopped – 2 tblsp
---
To temper
Oil/ butter – 2 tblsp
---
Jeera – 1
---
Method
Cut onion, cabbage, carrot and cabbage to fine strips, this makes the vegetables cook very fast. Slit the green chillies. Heat kadai with oil and temper with jeera. Add onion and both chillies and fry until transparent.
Grind cashew nuts with little water, to a very smooth paste. set aside.
Add tomato puree. If you dont have puree,make you own by grinding the tomatoes. Fry until raw smell goes away. Add the ground cashew paste. Mix well.
Make sure you add oil (1 or 2 tsp) at this stage to get the cashew paste fried easily and to make it non sticky. Add chilli powder, dhaniya powder, garam masala powder and kasooti methi at this stage and mix well. Oil should separate from the paste and cook until that in medium or low flame.
Add all the vegetables, salt and mix well. the vegetables will get cooked and volume reduces soon. Cook until the vegetables are done. Lastly add crumbled paneer.
Mix well and then add cream and mix well. Add more water/ milk to bring it to a consistency you prefer. Cook for 2 minutes in medium flame.
Notes
If carrot is big, add only half of it. You can use all the three colours of capsicum to make it more appealing.
This is a cashew based gravy, so taste may differ if the recipe is altered.
The gravy and the vegetables should be in equal ratio.
Colour of the dish depends on the tomatoes and red chilli powders colour. Since i used store bought tomato puree, the colour may be darker.
Paneer crumbles can be added more according to your wish.
I beat the cream with little milk before adding to the gravy to get it smooth.
You can use colourful capsicums for unique taste as each colour of capsicum has its own taste.
Garnish with lots of coriander leaves and serve hot with roti.