Veg rice bowl, inspired from the looks of KFC rice bowl. It's nothing but a fried rice with veg Manchurian gravy over it.
After all those Diwali posts, celebrations and few other commitments, I gave blog a break and now thought of breaking the silence with this simple lunch menu.
It's simple but really catchy is it not? This idea was given by my friend Sangeeta, after the inspiration from the KFC veg rice bowlz.
Though I have not tasted this, I have seen the ad. I love the idea, looks of the veg rice bowl.
I know there is nothing related to this fried rice and manchurian, yet only the name and presentation, to please your family/ kids.
I can try veg rice bowl only if I happen to taste it someday 🙂 So this is not much complicated, this post is just about presentation.
Am sure you will enjoy this. I tried to post this yesterday itself as it would help you all to plan your weekend lunch, but sorry, got little busy with something else 😉
Here's how I prepared this lunch menu.
Instructions
Recipe Cuisine: Fusion | Recipe Category: Lunch
Prep Time: 30 mins | Cook time: 45 mins | Serves: 4
Kept basmati rice in electric rice cooker with water ratio 1: 1 & ½. I kept 2 cups rice.
Chop carrrot, cabbage, beans, baby corn for manchurian balls as well as fried rice. I chopped 2 carrots, 20 beans, cabbage for only manchurian ball, 4 baby corn.
Chop spring onion, garlic for gravy. Keep all the other ingredients like sauces, pepper powder etc; ready.
By now the rice would have got ready. Fluff it and keep ready.
First mix and deep fry manchurian balls. Then toss veggies for fried rice and mix it.
Lastly prepare manchurian gravy. Serve hot both rice and gravy as this tastes best when hot.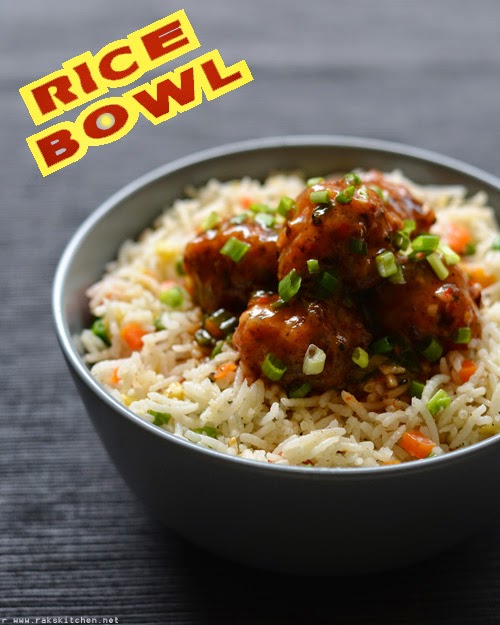 Recipe links
Here's links for fried rice and veg manchurian gravy.
You can also refer other manchurian side dishes - gobi manchurian dry, baby corn manchurian, chilli paneer gravy, schezwan baby potatoes.
Also check out this Chinese fried rice recipe.
Have a great day! 🙂