Layered vegetable Biryani with the basmati rice flavour, masalas and spices blended to give a unique taste and flavour.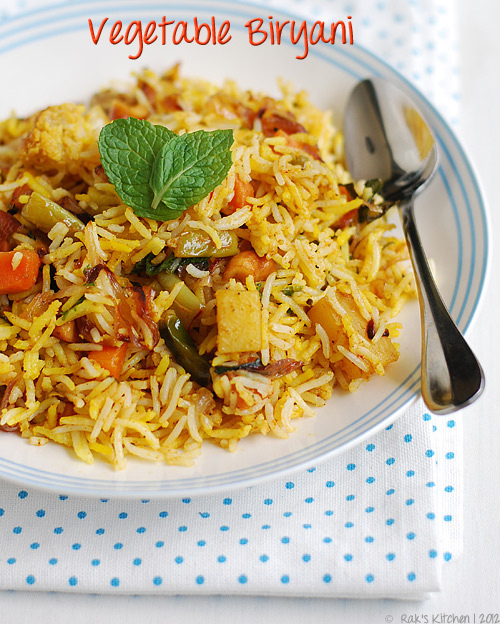 I always wanted to try this way of Layered vegetable Biryani, for long time now.
I make usually make in one pot method which I already have posted. This is the 2nd or may be third time I am making this way of layering.
But the first two times I tried a long time back. So recently remembered and wanted to try.
I referred Vah chef's video and this recipe. This can be made when you have guests at home or if you want to make a special meal 😊.
Layered vegetable Biryani recipe
Recipe Cuisine: Indian | Recipe Category: Lunch
Prep Time: 40 mins | Cook time: 30 mins | Serves: 4
Ingredients
Basmati rice - 1 & ½ cup
Onion - 2
Beans 10
Carrot - 1
Potato - 1
Cauliflower - 12 small pieces
Green peas(frozen/fresh) - ¼ cup
Curd - ¼ cup
Green chillies - 4
Chopped coriander & mint leaves - ¼ cup
Ginger garlic paste - 2 tsp
Biryani masala - ¾ tsp
Chilli powder - ¾ tsp
Black pepper powder - ¼ tsp
Milk - 1 tbsp
Yellow/orange food colour - 1 small pinch
Saffron - 1 pinch
Salt as needed
To temper
Oil - 4 tbsp
Ghee - 1 tsp
Cinnamon - 1 inch piece
Cardamom - 2
Cloves - 2
Biryani leaf - 1
star anise - ½
Instructions
Prep
Soak saffron in lukewarm milk and mix food colour. Keep aside.
Cooking rice
Soak basmati rice for at least ½ hour in plain water or 10 minutes in hot water.
Cook with 1 & ½ cup water, salt necessary for rice, 1 cardamom and 1 clove.
You can cook rice as per your method too, just make sure the rice grains are separate.
Once done, tear 6-8 mint leaves, add to the rice.
Add a teaspoon of ghee and fluff the rice.
Part two
Heat ghee in a pan and fry cashews until crisp, keep a side.
Heat 2 tablespoon oil and fry lengthwise sliced onion (You can use mandoline slicer for slicing onions very thin.)
Fry in medium-low flame. You can also deep fry onions if you want to get golden coloured caramelized onion. Towards end, it will brown fast, so keep an eye after it starts turning golden.
4. Fry until golden brown and keep aside.
5. In same kadai, heat remaining oil and temper with cinnamon, cardamom, cloves, star anise and biryani leaf.
6. Add ginger garlic paste and give it a fry. Following it, add vegetables, broken green chillies, biryani masala, chilli powder, black pepper powder, turmeric and salt.
7. Mix well in medium flame and add curd.

8. Mix well and fry for 5-6 minutes or until the masalas coats the vegetables. Raw smell should go off and vegetables should be almost done. You can sprinkle water if it gets too dry.
9. Take a oven safe bowl, spread a layer of rice, sprinkle the saffron milk 1 teaspoon and spread a layer with vegetables over it.
Now, sprinkle some fried onions, chopped mint and coriander leaves. You can do the same in pressure cooker as well.
10. Repeat this until you finish rice and vegetables. Finish with rice layer.
11. Then top with onion and coriander leaves, mint leaves. Close with a lid. 12. Preheat to 210 degree C.
(If in pressure cooker, close the lid, with the weight valve and keep in lowest possible flame for 15 mins. If your stove cannot be put in low flame, then you can put the cooker over a dosa pan.
13. Bake at a reduced temperature of 140 degrees C for 15- 20 minutes. Mix well finally and serve hot!
Notes
You can add paneer along with vegetables, add all vegetables and lastly add paneer.
Fried onion, mint and coriander adds a nice flavour.
If you don't have biryani masala, just replace it with ½ teaspoon garam masala itself.
The biryani masala will be having main impact in the briyani, so add the best. Some will be too overpowering, if you don't like it, don't add it.
You can top with ghee roasted cashews and you can also garnish with fried bread pieces. Serve layered vegetable biryani with onion raita…