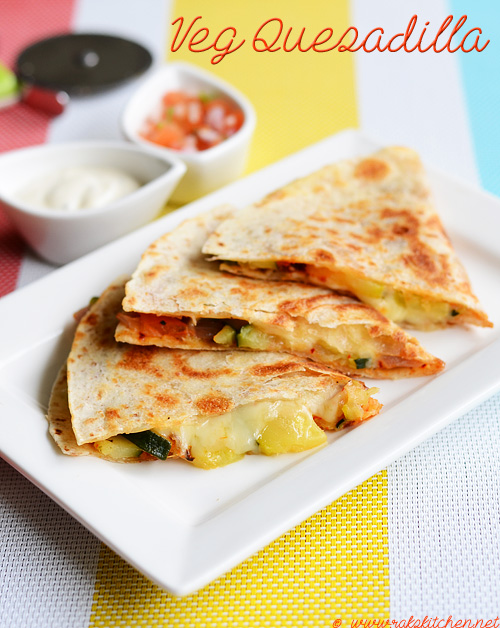 Vegetarian quesadilla with Zucchini, onion, capsicum, tomato and cheese as main ingredients. Last month, when we met Vj's friend at ECP, we had our dinner at Patro's. we all loved their food and this quesadilla was one of our orders and I decided to try it out later after my first bite. I love zucchini and cheese combo, already I have told this in my Spicy veggie pizza post. After that, I am liking zucchini in this quesadilla. Aj was not a big fan of my red bean quesadilla. But he likes this one. So I got zucchini last week and made for dinner along with pasta. Thought of posting here too and made it few days back.
The first time, I could pull it off the same as the one we had, but when I made for blog, due to a slight nervousness!! with video ON, I slightly changed the method. So I have mentioned it in the steps, please do take a note of it. Otherwise, an easy snack for your kids. With summer holidays coming up, you are sure gonna need this.
Vegetable quesadilla recipe
Recipe Cuisine:
Continental
|
Recipe Category:
Snack
Prep Time
:
10 mins
|
Cook time: 25 mins
|
Makes
:
4 cups
Ingredients
Tortillas – 4
---
Onion – 1
---
Capsicum – 1
---
Tomato – 1
---
Zucchini – ½
---
Chilli flakes – 1 teaspoon
---
Crushed black pepper – ½ teaspoon
---
Mixed herbs – ¼ teaspoon
---
Salt – As needed
---
Grated cheese – Mozarella or monterey cheese – As needed
---
Oil – As needed
---
Method
Get the veggies cubed, except zucchini, which can be sliced. In a pan, heat 1 tablespoon of oil. Add cubed onion, capsicum and zucchini first and add little salt, fry in medium flame until zucchini gets cooked, yet it retains it's crunchiness.

Add chilli flakes, black pepper and herbs ( I used perfect pinch Italian dry mixed herbs) and mix well. Add tomatoes now and switch off the stove. (I added in the beginning itself and ended up it mushy, by mistake).

Heat a tawa with little oil, toast the tortillas both sides slightly. Put in low flame and spread the vegetable mix in one half of the tortillas.

Spread cheese over the vegetables as desired and cover the tortillas with the other half, by folding. Flip carefully and press gently for few seconds to let the cheese melt.

Transfer and cut into triangles with a pizza cutter or knife.
Notes
Add little salt in the vegetable while cooking as cheese also will be having salt.
You can add any italian seasoning / herb in place of mixed herbs.
You can use olive oil or any vegetable oil for this.
While flipping, make sure to flip with the open side up. Refer video.
You can use any grated cheese that will melt and give you a nice texture.
You can use home made tortillas, or store bought one too. You can also use regular chapati (Rolled large and thick).
If you like eggplant or mushroom, you can try the same with eggplant / mushroom in place of zucchini.
Serve hot with sour cream dip and salsa as they serve in restaurants.