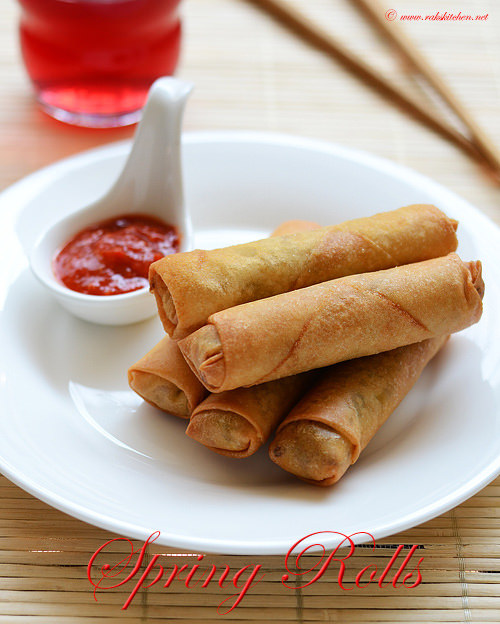 This is also one of the thing I learnt from my SIL here in Singapore. This is the first snack I learnt to make of my own,that too a different cuisine,when I came newly to Singapore. I proudly make this when our relatives visit us…😎 Very simple to make starter and can make pre preparations and do in a jiffy after the guest comes. All you need is patience and free time!!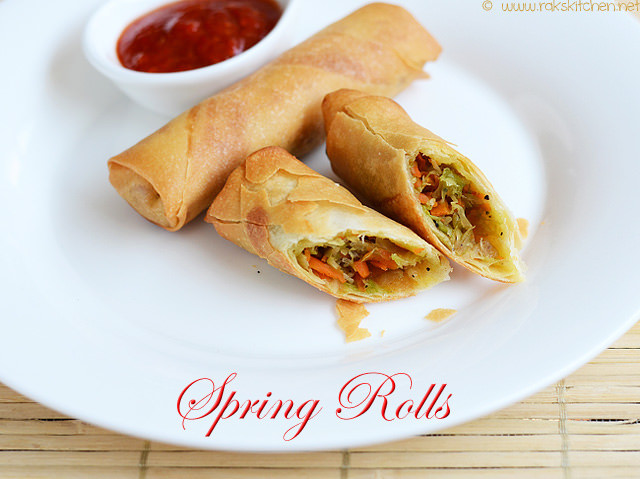 Vegetarian Spring rolls
Recipe Cuisine:
Oriental
|
Recipe Category:
Snack
Prep Time
:
25 mins
|
Cook time: 20 mins
|
Makes
:
20
Ingredients
Cabbage&carrot,finely chopped – 2 cups
---
Pepper (black/white) – 1 tsp
---
Soya sauce – ½ tsp
---
Salt – As needed
---
Olive oil – 2 tsp
---
Spring roll sheets – Frozen, shop brought
---
Maida/ APF – 1 tblsp
---
Oil – To deep fry
Method
To julienne carrot, the easy way is to thinly slice it diagonally and then stacking the slices and cut into strips. You need sharp knife for better results.

For cabbage julienne, just slice it, you will have fine julienne. Heat a pan with olive oil and add the carrots first and fry for a minute.Then add the cabbage and fry for one more minute in high flame.

Add the soy sauce,salt and pepper powder and fry in medium flame for one more minute. or until the cabbage is just done. Retain its crunchiness don't over cook to make it soggy.That's all,our stuffing is ready.

To make the spring roll, as per the instructions given in the cover of the pastry sheets, thaw the pastry sheets (keep out for 45 mins). Cover with a wet kitchen towel to avoid drying. Take one sheet carefully and keep as shown in the picture. Keep the stuffing a little above one corner.

Take that corner and roll in such a way to cover the stuffing until half way.

Make a paste of maida with little water and use that to line the corners of the pastry sheets as shown in the picture.

Roll till half way as shown. Fold the corners both the sides towards the center shown in the picture. Again roll tightly to make it completely sealed.

Repeat the process to finish the stuffing. Keep covered until cooking,to avoid drying. We can either deep fry or shallow fry these spring rolls. I just used 2 tsps of olive oil to fry in a shallow pan. Or deep fry in hot oil. Oil should be hot while you drop and cook in low flame until it is golden in colour. Keep turning for even cooking.
Notes
Until step 8 before deep frying, you can finish and cling wrap it in a plate, keep it refrigerated to fry later part of the day. Or freeze it and can be used upto a week or 10 days.
To get crispy spring rolls, you must cook in low or medium flame.