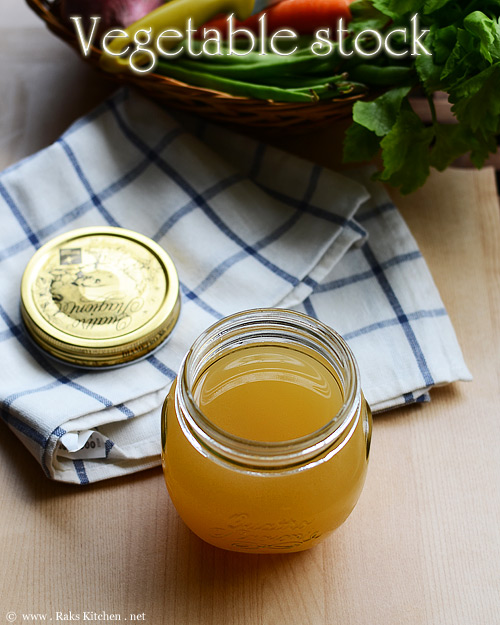 Vegetable stock is not only healthy to use in your soups, but also adds flavour to your soups. I am not a soup person, that is lazy to prepare soup at home. Even at restaurants, I junk eat the other starters rather than a soup. There are sometimes when I feel like having soup, then only I like to have soup. I love rich and creamy soups as well as clear soups. Recently I am loving tomato basil bisque from subway. I wanted to try vegetable stock in some soup and see the taste difference and searched for vegetable stock at stores and sadly all the top brands arent vegetarian🤫. So I had to try myself at home. And this stock recipe is one I adapted from an Italian cook book. So it may not be an Indian style stock recipe, but sure is healthy and tasty. And I really don't know if there is Indian style stock recipe.
Vegetable stock recipe
Recipe Cuisine:
Continental
|
Recipe Category:
Starter
Prep Time
:
5 mins
|
Cook time: 1 hour
|
Makes
:
3 cups
Ingredients
Carrot – 1
---
Cabbage – 4 leaves
---
Beans – 8
---
Celery – 2 stalks
---
Onion – 1
---
Tomato – 1
---
Salt – 1 pinch
---
Sugar – 2 pinches
---
Water – 5 cups
---
Method
Bring water to boil in a large vessel and add all the vegetables roughly chopped to it.When it boils, simmer the flame to lowest and cover cook for 45-60 mins.

Strain the vegetables by pressing down in a sieve or metal strainer and cool down completely.
Notes
This vegetables are just a guidance and you can use the vegetables available in your fridge.
Its best way to use the left over veggies, to utilize it.
The recipe dint ask to fry any ingredient, so just boil as such!
You can store this stock in a container in fridge for 3 days or even freeze and use as when needed! Next post is a soup recipe obviously!