Tacos is very new to me. I saw in a cookery show first time. Later Vj keeps insisting me to try Mexican dishes as it has few good vegetarian recipes and suits our taste buds too. But I used to ask him what to try. Later tried Quesadilla and Salsa. And this is my next one. But I made it my way with the ingredients I had in my pantry, so that my readers also find it simple and easy to try. Only thing you need to get specially is taco shells. If at Chennai, you can try at Amma naana, Nilgiris, Nuts N spices, Gormei (gourmet) Market – CIT Colony/Gandhinagar. It comes out really tasty and healthy with Rajma (red kidney beans), only very less sour cream (optional) and cheese.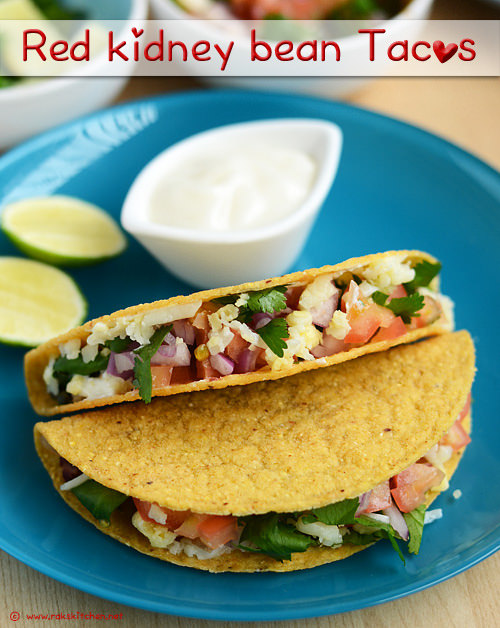 Vegetarian rajma tacos recipe
Recipe Cuisine:
Indian
|
Recipe Category:
Snack
Prep Time
:
12 hrs soaking time
|
Cook time: 30 mins
|
Makes
:
10
Ingredients for rajma filling
Rajma (Red kidney beans) , cooked or tinned – 1 cup
---
Garlic – 1 flake
---
Onion – 1
---
Tomato – 1, pureed
---
Fresh red ripe chilli (or spicy green chilli) – 2
---
Coriander leaves – ¼ cup
---
Black pepper powder – 1 tsp
---
Olive oil – 3 tblsp
---
Salt – As needed
---
To serve
Taco shells – 10
---
Onion – 1
---
Tomato – 1
---
Coriander leaves – ¼ cup
---
Lemon juice – 2 tsp
---
Sour cream – 3 tblsp
---
Grated cheese – 4 tblsp
---
Method
Pre heat oven at 180 deg C and bake the taco shells arranged in a baking tray as show in the picture. Leave little space so that it gets heated evenly.

Once done, leave it in the oven for 3 – 4 mins and proceed with the filling. Heat oil and fry finely chopped garlic and green chillies for half a minute.

Add finely chopped onion and fry until transparent. Add the coriander leaves.

Once it reduces in volume, add pureed tomato. I boiled tomato in hot water for a minute, peeled the skin, and ground it to make puree. Fry until oil separates. May take 3 mins in medium flame.

Add cooked rajma and mix well for 2 minutes.Add required salt, water ½ cup and simmer for 5 minutes or until it turns semi dry.

Add black pepper and mix well. Now for serving, finely chop onion, tomato, coriander leaves and mix well with lemon juice. Keep all the needed items ready.

Take a crisp taco shell, first fill with the rajma a layer, then a tsp of sour cream.

Then fill with the onion tomato mix and lastly grated cheese.
Notes
Baking the tacos is to make it crispier. Cannot be done in microwave mode.
You can skip sour cream too if you dont have. Also you can use hung curd in place of sour cream.
Monetary jack cheese or any mild cheese works best, processed cheese also can be used.
I used tinned rajma, if using tinned, drain and wash well before using.
To cook rajma, choose the red ones, not the black and soak overnight. Cook with enough water for 5 whistles with little salt.
Make sure you add required salt in rajma otherwise it will be bland. I guess tinned one has salt in it.
As soon as you assemble, serve/ eat it as it may go soft.
Perfect for your kids/ hubbies who come back to home, as snack. If you keep everything ready, you can just assemble and give them. Filling too, to satisfy their hunger pangs.